Bill Viola
Born in New York, 1951. Resides in California. Started making video art in the early 1970s. Worked as an assistant to established video artists such as Nam June Paik. Traveled to Japan in 1980 and stayed for 18 months on a cultural exchange fellowship. Did a residency at Sony in 1981, where he made Hatsu-Yume. Represented the United States at the Venice Biennale in 1995. In 1997 had a large-scale touring retrospective exhibition, organized by the Whitney Museum of American Art in New York. In 2003 the J. Paul Getty Museum produced a solo exhibition, "The Passions," which toured internationally. In 2005 made a series of work for a new production of the opera, Tristan und Isolde.



Bill Viola writes:
From 1980-81 my wife and creative partner Kira and I lived in Japan. We met many artists and experienced much art and culture, which profoundly inspired us. This exhibition is our small gift in return to the people who so warmly greeted us and generously shared their knowledge and unique cultural traditions, both ancient and contemporary.


A Message to the Viewers from Bill Viola
Windows Media
Podcasts
Drag & drop this banner to your iTunes.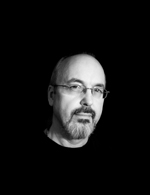 Bill Viola
Photo: Wouter Vandenbrink, 2006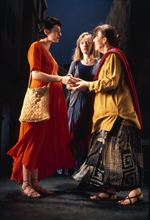 The Greeting [production still]
1995
Video/sound installation
Photo: Kira Perov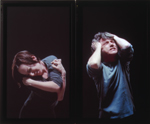 Silent Mountain
2001
Color video diptych on two plasma displays mounted side-by-side on wall
Photo: Mike Bruce
Photo courtesy: Anthony d'Offay Gallery, London