There aren't a lot of chances to enjoy Arab cuisine in Japan, but it's very popular in Europe and the United States. Using mutton, beans, vegetables such as tomato, herbs such as mint and cardamom, nuts and other ingredients, Arab food is healthy and delicious, so once you try it, the chances are that you won't be able to stop!
Mention food and Islam in the same sentence and people are likely to think of fasting, but the truth is that it is during the fasting period that Arabian food really comes into its own, and villages and public areas tend to come alive with a festival-like atmosphere.
In this, the third in our five-part "Arab in One Minute" series, in which we provide brief introductions to various aspects of Arab culture, we reveal the secrets of the region's rich food culture. Bon appetit!
 

A chicken set-meal. Half a chicken is served for one person, so it is sure to satisfy even the most ravenous appetites.
Photo: Watanabe Satoru
The lunar calendar is used in Islamic cultures, and in the 9th month by that calendar - the month of Ramadan - the believers of Islam fast. By the lunar calendar, each month is counted from the new moon till the next new moon, so in each year there are 354 days. This is 11 days shorter than the solar calendar, so each year the season of fasting shifts a little.
During Ramadan, it is said that the most pious people refuse even to swallow their own saliva, but still the fact is that the fasting takes place only during the day. At night, eating and drinking are permitted, and, if anything, the towns become livelier during this period than usual. "People come alive as a lifestyle rhythm different to the norm kicks in," explains Katakura Motoko in her book Isuramu no Nichijo Sekai (The Everyday World of Islam; Iwanami), which was a record of her studies in Cairo. The relevant chapter is actually titled "The month of fasting is fun," which no doubt conveys an image of Ramadan quite different to that held by most people.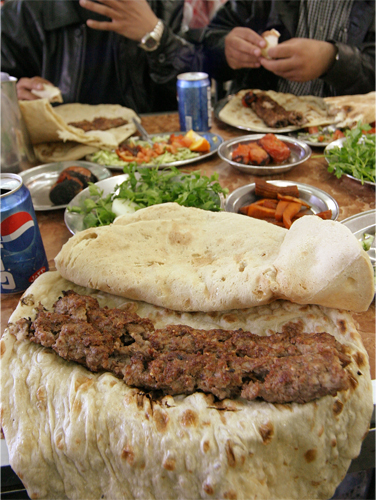 Mutton kebab. This one is made by shaping minced mutton into meatballs. The meat is served inside round, flat pieces of bread.
Photo: Watanabe Satoru
The first meal eaten after sundown is called "iftar." Pilgrims to the holy cities of Mecca or Medina are traditionally provided with iftar for free, but of course the numbers of pilgrims is enormous so the costs of this service would be huge. What happens is that there is a system of charity. People donate food to the pilgrims, but they actually see this as a welcome opportunity to do a good deed themselves. Thus, even if you don't live in one of the holy cities, it is believed good practice to make extra food for iftar and then deliver it to travelers staying at local mosques and so on.
And this kind of kindness to strangers is directed at foreigners, too. Arab hospitality is well known the world over. And one of the most important ways to demonstrate your kindness to travelers or guests is to serve them mutton.
Mutton is probably the most popular food in the Arab world. Stewed mutton does not have a strong smell and it is so tender that it can be cut with a spoon. It also whets the appetite when it is prepared in kebabs with spices. Chicken is also often eaten and I can tell you in all honesty that it is extremely tasty. That said, there is not a lot of variation available. When I was staying in Iraq my menu tended to switch between mutton and chicken each night. Actually, the dishes I liked the most were hummus (made from chickpeas) and Baba Ghanouj (made from eggplant). I sometimes make those in Japan and enjoy them with beer.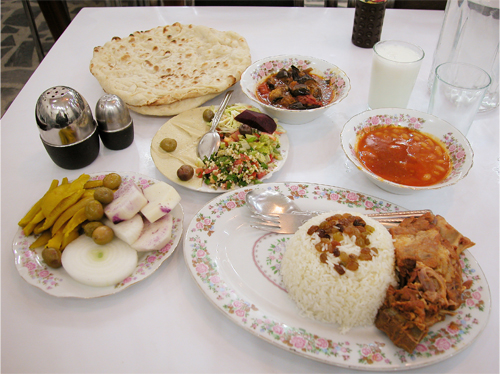 Mutton stewed in tomato. Choose a main, and you can also receive a set featuring bread and rice. The bean soup and the eggplant stew that accompany the main meal are also tomato-flavored. Most stews are tomato-based in Arab countries.
Photo: Watanabe Satoru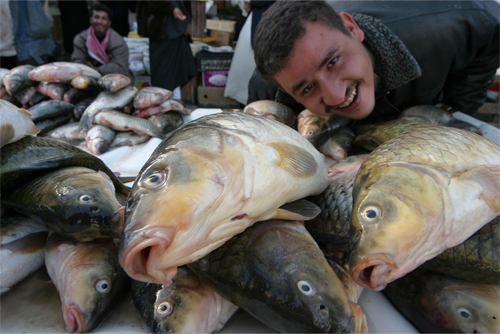 Piles of carp at a market. Can this be the aroma of Mesopotamia?
Photo: Watanabe Satoru
*All photos taken in Iraq
So, in general, Arabs have a diet of meat, but the other special treat that they prepare for guests is fish. I was once invited to someone's house to "come and eat masgouf." Masgouf if barbecued carp and it is a specialty cuisine of Iraq. The carp is caught in the Tigris or Euphrates, and while it might be an exaggeration to call it the "flavor of Mesopotamia," it is a dish that is to this day surrounded with an air of romance and tradition.
 
Text: Watanabe Satoru
Journalist, photographer. Reported on the Iraq war in 2003 and has continued to report in Iraq since. Publications include Kurudo, Iraku, Kyukutsu na Hibi - Senso o Hitsuyo to Suru Hitobito (The Kurds, Iraq and Days of Feeling Locked In: The People For Whom War is a Necessity; Gendai Shokan). Also involved in editing the magazine Kikan Arabu (Arab), which is published four times per year.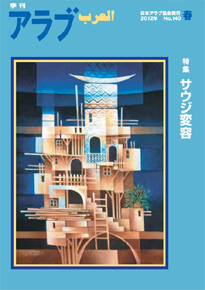 季刊アラブ
 
What is "Arab in One Minute"?
An attempt to explore the attractions of the Arab world in five themes.
You'll surely feel much more familiar with Arab culture after reading them all.
Next update is scheduled to be on Wednesday, 16th May, 2012.
■Relevant information

・"Arab in One Minute"
File-01 The Arab World on Screen
File-02 My first time at the cafe, the meeting place of men
File-03 Lamb or Chicken, That Is the Question / Cuisine and Hospitality
File-04 Ruins from Time Immemorial: Mesopotamia, the Birthplace of Civilization
File-05 The Beauty is in the Geometry:Calligraphy and Arabesque
"Arab Express: The Latest Art from the Arab World" introduces the work of about 30 artists from the Arabian Peninsula and surrounding Arab countries. This exhibition will bring you up to date with the latest developments from an art scene that is now the focus of international attention.
・Arab Express: The Latest Art from the Arab World
16 June - 28 October, 2012