This last in the series of highlights of "Roppongi Crossing 2013: OUT OF DOUBT" is the "post-object." Armed with hints gleaned from the four keywords we've introduced, we look forward to seeing you at the venue and you interacting with the work! "Roppongi Crossing 2013: OUT OF DOUBT" runs through January 13, 2014.
"Post-object" has garnered much attention in the global art scene of recent years. In contrast to art that consists of a physical "object," such as a painting or sculpture, completed using traditional artistic techniques, installations containing performative elements that do not come to form any "thing" and forms of creative expression that contain elements of movement and change are growing in popularity. In the context of this environment, it's not difficult to understand why creative practice that focuses less on the completed work and more on the process of producing that work as well as once-only on-the-spot performances and installations where nothing remains afterwards ­- such as those seen in "Gutai" and "Mono-ha" movements in post-war Japanese art - are the object of renewed attention.
"OUT OF DOUBT" focuses on artists working as members of the global art community and explores their mutual relationships.
Each of the individual artworks featured in the "highlights" presented thus far, although part of a larger exhibition, are intended to be viewed transversely, with all of them intertwined in a complex manner.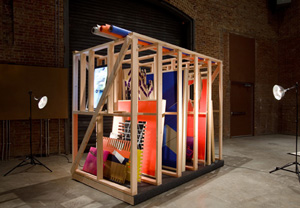 Tajima Mika
The Extras *
2010
Photo: Jason Mandella
Courtesy: Sculpture Center, New York
A fusion of painting, sculpture and performance - with "extras" on standby on the rack.
The highlights and key points introduced in the 4 parts of this series are by no means meant to classify the participating artists and their output.
As the work by the 29 artists is arranged in a way that generates spatial, visual and conceptual dialogue, we look forward to you visiting the exhibition and "listening" to what transpires among them.
Join us in exploring "doubt" about art and society.
 
■Relevant information
・OUT OF DOUBT in a Minute - website top page
・OUT OF DOUBT in a Minute - Highlights (blog link)
(1) Turning points in society explored through art past and present
(2) A critical spirit revealed by "nonsense"?
(3) Questioning the meaning of modernization from the ancient Japanese view of nature
(4) The "post-object" tendency goes global
・Mori Art Museum 10th Anniversary Exhibition
"Roppongi Crossing 2013: OUT OF DOUBT"
Saturday, September 21, 2013 - Monday, January 13, 2014