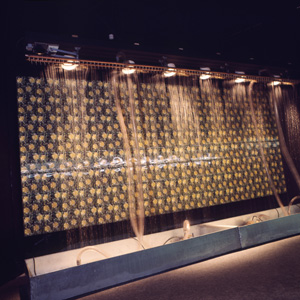 Rain Machine
Installation View: Expo '70 Osaka
Photo courtesy: Commemorative Organization for the
Japan World Exposition '70
© The Andy Warhol Foundation for the Visual Arts, Inc.
Warhol's Rain Machine was first unveiled at the Expo '70 Osaka United States Pavilion. It consisted of a grid of lenticular photographs of daisies installed behind a wall of simulated rainfall. The piece was produced in collaboration with the "Art and Technology Program" of the Los Angeles County Museum of Art (LACMA), as part of the project to combine cutting-edge technology with art, and it was unveiled at Expo '70 Osaka. Even though the work was discarded due to deterioration after the end of Expo '70 Osaka, the new, improved version was produced. Since almost no record remains, in Japan it was long forgotten. This large-scale installation piece will be exhibited for the first time in Japan since Expo '70 Osaka, intended to stimulate further research on this important work.
* Rain Machine will be exhibited from Saturday, March 1 through Tuesday, May 6 next to the "Andy Warhol Cafe" (located at Tokyo City View observation deck, 52F, Roppongi Hills Mori Tower).
 
■Relevant information
・Mori Art Museum 10th Anniversary Exhibition "Andy Warhol: 15 Minutes Eternal"
Exhibition Period: Saturday, February 1 - Tuesday and Holiday, May 6, 2014
・"MAM Project 020: Gabriel Acevedo Velarde"
Exhibition Period: Saturday, February 1 - Tuesday and Holiday, May 6, 2014