The "Go-Betweens: The World Seen through Children" exhibition focuses on the nature of children who move back and forth between different cultures, or between reality and the world of imagination. The show runs till Sunday, August 31, 2014.
In this 3rd round of "Go-Betweens" in a Minute, the curator offers commentary on StoryCorps.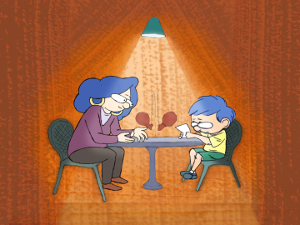 StoryCorps
Q&A
2010
Animation
4 min.
Courtesy: StoryCorps
StoryCorps
The "StoryCorps" project, launched in New York by radio producer David Isay, records conversations among families and friends from all walks of life, and share those stories. To date, over 45,000 conversations have been collected involving over 90,000 people, and broadcast on the radio and via internet.
Q&A, one of two dialogues converted to animations showing at "Go-Betweens," is the recording of a conversation between a first-year junior high school boy with Asperger's Syndrome, and his mother. The boy, concerned that he doesn't know how to relate to people, compares himself to his younger sister, commenting that "everyone seems to like [her] more, like she's a perfect little angel." To which his mother replies that it may be a while before he understands, but the important thing is that he has "a few very good friends" and that is what we most need in life. When the boy asks his mother if he has met her expectations of what she wanted in a son, she replies that he has exceeded them, "because you think differently from what is in the 'parenting' books, and it's made me much more creative as a parent, made me grow as a parent, and I'm so lucky to have you as my son."
The sight of mother and child refusing to turn their back on troubles, instead engaging with each other frankly and offering mutual support is heartening to the viewer. There is no need to be "like everyone else." The trust and encouragement of those close to us can make diversity a major strength.
Text: Araki Natsumi (Curator, Mori Art Museum)
 
■Relevant information
・"Go-Betweens: The World Seen through Children"
Exhibition Period: Saturday, May 31 - Sunday, August 31, 2014
・"Go-Betweens" in a Minute
(1) Zhang O Daddy & I: No.29
(2) Kim Insook Great-grandmother and I
(3) StoryCorps Q&A
(4) Ume Kayo Junior High School Girls
(5) Suhel Nafar & Jacqueline Reem Salloum: Yala to the Moon
(6) Rineke Dijkstra: I See a Woman Crying (Weeping Woman)