The "Go-Betweens: The World Seen through Children" exhibition focuses on the nature of children who move back and forth between different cultures, or between reality and the world of imagination. In "Go-Betweens" in a Minute, the curator offers brief commentaries on works in the show.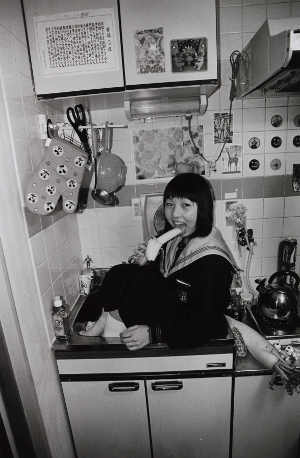 Ume Kayo
Junior High School Girls
2000-2001
Inkjet print
Ume Kayo
In a cramped room, young girls perform a series of "silly acts." As the title indicates, the girls in their "sailor" uniforms and physical education gear are "junior high school girls." Climbing into the kitchen sink, rolling up their skirts, using a bra as a blindfold, pretending to give birth: a herd mentality causes the mischief to escalate.
Yet where does such an intimate atmosphere like this come from? An elementary school child at the exhibition opined that "they must be friends taking photos of each other." When the shots were taken, the photographer Ume Kayo herself was still in her teens, and this was a room in the dormitory where she lived. One could describe these as miraculous photos able to be taken precisely because the photo taker and those being photographed were in a state of both physical and psychological proximity. Ume Kayo did a splendid job of getting close to her subjects, inspiring them, and drawing out their desires and fantasies.
The girls' interest in sex is accompanied by cheeky good cheer, perhaps because they are at that borderline age at which they can move between the adult and child worlds, yet readily return to that of children when it suits. Junior High School Girls radiates the boundless energy of girls during puberty, a time when danger and innocence cohabit.
Text: Araki Natsumi (Curator, Mori Art Museum)
 
■Relevant information
・"Go-Betweens: The World Seen through Children"
Exhibition Period: Saturday, May 31 - Sunday, August 31, 2014
・"Go-Betweens" in a Minute
(1) Zhang O Daddy & I: No.29
(2) Kim Insook Great-grandmother and I
(3) StoryCorps Q&A
(4) Ume Kayo Junior High School Girls
(5) Suhel Nafar & Jacqueline Reem Salloum: Yala to the Moon
(6) Rineke Dijkstra: I See a Woman Crying (Weeping Woman)