"Go-Betweens: The World Seen Through Children" brings together images of children as they appear in works by 26 outstanding artists and artist units from around the world. This is the fifth in a series designed to give a better understanding of the creativity of children, unfettered by grown-up notions of common sense or traditional frameworks, and the sheer variety of their sensibilities. Here we introduce a work by Palestinian-American duo Suhel Nafar and Jacqueline Reem Salloum.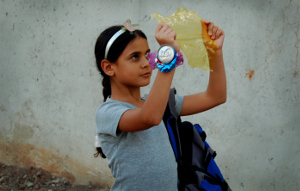 Suhel Nafar & Jacqueline Reem Salloum
Yala to the Moon
2011
Live-action / animation
7 min.
Suhel Nafar & Jacqueline Reem Salloum
Aseel, main character in the short film Yala to the Moon, is a young girl living on the West Bank who doggedly touts pirated CDs to help support her family. A grounded and sensible child, she is also a bit of a dreamer. Looking through cellophane rescued from the rubble she finds the surrounding landscape has been transformed, a beautiful rainbow soars above a townscape destroyed by war, and the oppressive barrier wall separating the Palestinian Territory of the West Bank from Israel has turned into a piano keyboard.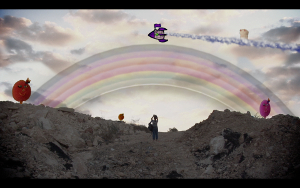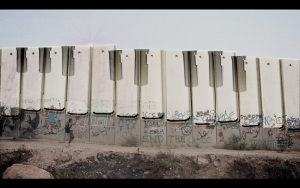 Then, on arriving home, Aseel turns into a pop star. Stepping into the spotlight on her imaginary stage, she sings and dances, her baby brother being the audience. The little fellow may be too young to walk, but still manages to show his appreciation with great gusto.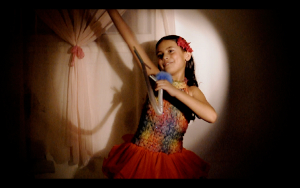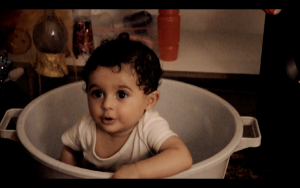 Most of us - in the realm of our imaginations - have turned ourselves into someone we long to be. This film reminds us how the power of imagination alone can open up a whole different world even without money or material things.
On July 8, during the exhibition period, the Israeli army launched an assault on the Palestinian Territory of Gaza, an attack that to date has resulted in major casualties. The day hostilities cease and children like Aseel can live securely cannot come too soon.
Text: Araki Natsumi (Curator, Mori Art Museum)
 
■Relevant information
・"Go-Betweens: The World Seen through Children"
Exhibition Period: Saturday, May 31 - Sunday, August 31, 2014
・"Go-Betweens" in a Minute
(1) Zhang O Daddy & I: No.29
(2) Kim Insook Great-grandmother and I
(3) StoryCorps Q&A
(4) Ume Kayo Junior High School Girls
(5) Suhel Nafar & Jacqueline Reem Salloum: Yala to the Moon
(6) Rineke Dijkstra: I See a Woman Crying (Weeping Woman)