By participating Lee Mingwei's projects, visitors will have opportunities to think about relations and connections. In the part three of blog series, we focus on Section 3, which visitors could think about "connections" through personal memories.
Section 3: Thinking Connections of History, Culture, Society through Personal Memories
Here we will consider the impact of relations between Japan and Taiwan, major changes in society and historically significant events on the individual by exploring the personal memories of Lee Mingwei and individuals participating in the projects. Family photographs including those of his grandparents who studied in Japan will also be exhibited.


(Left)
Tokyo Women's Medical School class photograph of Wang-shi You, grandmother of Lee Mingwei's, 1930s
(Right)
Family photograph in front of his grandmother's hospital in Taichung, with Lee Mingwei being the second from the right in the front row, 1960s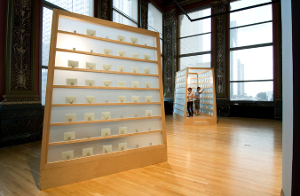 The Letter Writing Project
1998
Installation view: Chicago Cultural Center, 2007
Photo: Anita Kan
In a peaceful, quiet space, visitors will be invited to write what they had always meant to say - such as words of apologies and appreciation - to people important to them. Letters that are sealed and addressed will be posted, while those that are unsealed will be left for visitors to read.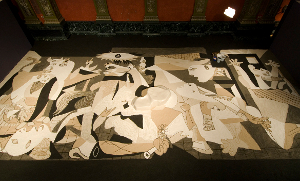 Guernica in Sand
2006
Installation view: Chicago Cultural Center, 2007
Collection: Glory Yeh Culture & Art Foundation, Hsinchu, Taiwan
Photo: Anita Kan
Guernica in Sand, Lee Mingwei's interpretation in sand of the painting, Guernica, Picasso's depiction of the bombing of Basque civilians during the Spanish Civil War is exhibited. On November 16, 2014, a one-day performance where members of the audience were invited to walk on the painting, thus transforming the work was held. This performance reminds us of the impermanence characteristic of the world.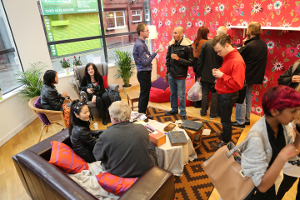 The Living Room
2000
Installation view: Centre for Chinese Contemporary Art, Manchester, 2013
Photo: Kevin Ho
The Living Room is a project and a place to relax and to listen to the memories and episodes related to the history of Roppongi District. Lee Mingwei, Director of the Mori Art Museum, or other volunteers recruited from the general public will host the project and share their memory or episode with visitors, using their memorable items and/or photos.
 
■Relevant information
・Introducing Artworks and Sections from "Lee Mingwei and His Relations"
(1)Thinking Relations, Connections and In-between Space
(2)Walking, Eating, and Sleeping - Rethinking Everyday Actione
(3)Thinking Connections of History, Culture, Society through Personal Memories
(4)Contextualize Lee's Body of Works: Hakuin / Imakita Kōsen / D.T. Suzuki
(5)Contextualize Lee's Body of Works: Hisamatsu Shin'ichi / Yves Klein / John Cage
(6)Contextualize Lee's Body of Works: Lee Ufan / Allan Kaprow / Rirkrit Tiravanija
(7)Contextualize Lee's Body of Works: Ozawa Tsuyoshi / Tanaka Koki
・"Lee Mingwei and His Relations: The Art of Participation: Seeing, Conversing, Gift-giving, Writing, Dining and Getting Connected to the World"
Saturday, September 20, 2014 - Sunday, January 4, 2015
・"MAM Project 022: Jacob Kirkegaard"
Saturday, September 20, 2014 - Sunday, January 4, 2015