"Takashi Murakami:The 500 Arhats" will start on Saturday, October 31 2015. Takashi Murakami, inspired by a series of dialogues with art historian Tsuji Nobuo for The Geijutsu Shincho art journal, and by paintings of the Five Hundred Arhats by Kano Kazunobu (1816-1863) and Nagasawa Rosetsu (1754-1799), enlisted over 200 students from Japanese art colleges to carry out the arduous task of completing, in a very short period of time, his 100-meter-long magnum opus painting.
The work consists of four sections bearing the names of the legendary Chinese guardians of the four celestial directions (blue dragon - east, white tiger - west, red bird - south, and black tortoise - north). Addressing themes of religion and art, human mortality and limitations, this new monumental work breaks new ground in Murakami' s creativity. His The 500 Arhats was unveiled overseas, making the forthcoming exhibition in Japan a 'homecoming.'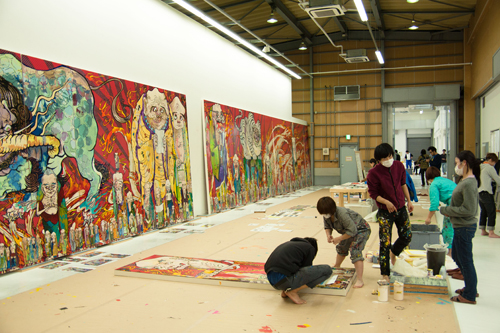 Production view, The 500 Arhats
Photo: Aminaka Kenta
* The 500 Arhats
The 500 arhats are thought of as enlightened disciples of Buddha who spread his teachings and give ordinary people salvation from worldly desires. The faith of the arhats was conveyed to Japan during the Heian period (8th-12th century) and flourished throughout the country from the Edo period (17th-19th century) on in the forms of paintings and sculptures. Kano Kazunobu's Five Hundred Arhat's (housed at Zojoji Temple in Shiba, Tokyo), a 100-scroll series of paintings, was exhibited in Japan in its entirety for the first time at the Edo Tokyo Museum immediately following the 2011 Great East Japan Earthquake and Tsunami, and at the Arthur M. Sackler Gallery, a Smithsonian museum in Washington, D.C. in 2012. Both exhibitions drew tremendous public attention.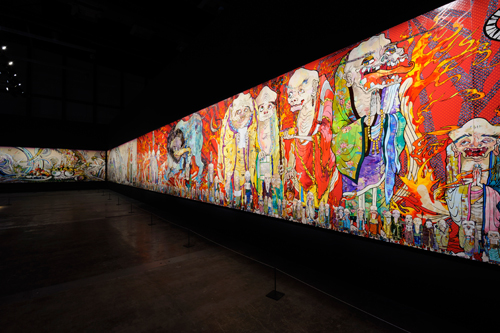 The 500 Arhats
2012 Acrylic on canvas mounted on board 302 × 10,000 cm Private collection
Installation view: "Murakami - Ego," Al Riwaq Exhibition Hall, Doha, 2012 Photo: GION
© 2012 Takashi Murakami/Kaikai Kiki Co., Ltd. All Rights Reserved.
 
■Relevant information
"Takashi Murakami:The 500 Arhats"
Saturday, October 31, 2015 - Sunday, March 6, 2016
"TAKASHI MURAKAMI: THE 500 ARHATS" Exhibition Highlights, Vol.1
The Japan Premiere of Takashi Murakami's Epic, "The 500 Arhats"
"TAKASHI MURAKAMI: THE 500 ARHATS" Exhibition Highlights, Vol. 2
500 Arhats by Edo Artists, Nagasawa Rosetsu and Kano Kazunobu
"TAKASHI MURAKAMI: THE 500 ARHATS" Exhibition Highlights, Vol. 3
The "NOW" of Takashi Murakami Through a Number of His Latest Works