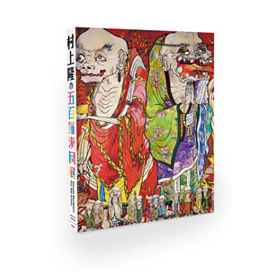 At last, the exhibition catalogue of "Takashi Murakami: The 500 Arhats" will be on sale on December 29!
Get your copy upon visiting the exhibition.
[Conversations]
Tsuji Nobuo (Art historian) + Takashi Murakami
Tran Anh Hung (Film director) + Takashi Murakami
[Essays]
Genyu Sokyu (Writer; Head Monk, Fukujuji Temple; Professor Emeritus, Hanazono University)
Nakano Kyoko (Writer; Scholar of German Literature)
David Pilling (Asia Editor, Financial Times)
Sarah Thornton (Writer; Sociologist)
Miki Akiko (Curator of the exhibition)
Size: A4 variation (21×28.2 cm)
Languages: Japanese-English bilingual
Price: ¥3,996 (Tax incl.)
Edited and Published by: Mori Art Museum / Heibonsha Ltd., Publishers
Date of Issue: Tuesday, December 29, 2015 (TBC)

Where to purchase: Mori Art Museum Shop (53F, Roppongi Hills Mori Tower)
* Please be informed that there might be some cases where the catalogues are out of stock.
In Commemoration of Publication of "Takashi Murakami: The 500 Arhats"
Exhibition Catalogue
Takashi Murakami Signing Session on January 9 - limited to 200 persons only -
Details here * Roppongi Hills website
* Number tickets to entitle the visitors to join in the session will be handed out from 10 a.m. on the day.
* Signing will be applied to the catalogues purchased on the same day only.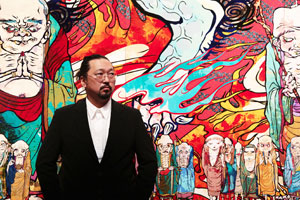 Photo: Okazumi Chika