Visitors to "Takashi Murakami: The 500 Arhats" will find some fun tricks offering a glimpse of Takashi Murakami's willingness to go that extra mile for his audience. Here, we discuss the "Murakami Arhat Robot" and rides modeled on sacred guardians made specially for the exhibition.。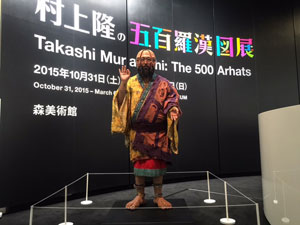 Visitors are greeted at the entrance to the show by the "Murakami Arhat Robot," a virtually life-size copy of Takashi Murakami.
Approaching this very realistic humanoid, looking more life-like the closer you go, you may find it chanting the Heart Sutra, or moving its eyes.
Anecdotally, the 500 arhats have the power to heal 500 kinds of human suffering. So what do you suppose this 501st arhat can heal?
A photo report on setting up the robot is available on Twitter. Go to the Mori Art Museum official Twitter site and search using the hashtag, "#村上羅漢ロボ".
At the lounge at the end of the exhibition as well as the exit, you'll also find some rides akin to those coin-operated ones outside stores. These however are modeled on the four guardians of Chinese myth that govern the north, south, east and west: Black Tortoise, Vermillion Bird, Blue Dragon, and White Tiger in that order. We regret to say these are not actually for riding on! But do come along and meet these charming yet sublime beasts.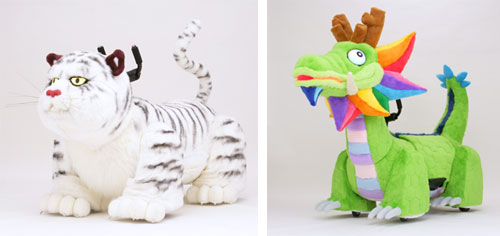 Photos of both the Murakami Arhat Robot and mythical guardians are permitted of course - feel free to take photos to share, use as wallpaper or however you like.
© Takashi Murakami/Kaikai Kiki Co., Ltd. All Rights Reserved.
 
■Relevant Information
・"Takashi Murakami: The 500 Arhats"
Saturday, October 31, 2015 - Sunday, March 6, 2016
・"Takashi Murakami: The 500 Arhats" Works of Murakami
(1)The 500 Arhats--"Blue Dragon" and "White Tiger"
(2)The 500 Arhats--"Black Tortoise" and "Vermilion Bird"
(3)Making The 500 Arhats
(4)New painting series
(5)The Birth Cry of a Universe
(6)Mr. DOB, Tan Tan Bo, Gero Tan
(7)Bonus! Murakami Arhat Robot