The 500 Arhats was unveiled the year after the Great East Japan Earthquake partly as an expression of gratitude to Qatar, one of the first nations to offer assistance after the disaster. This third edition of the blog covers events up to completion of the work.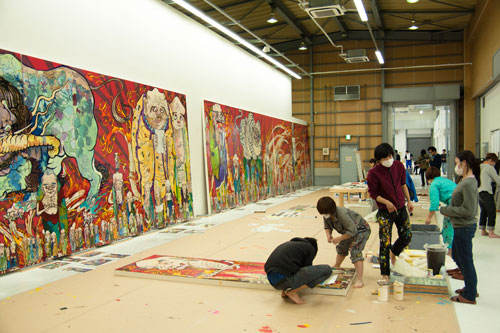 Production view, The 500 Arhats
Photo: Aminaka Kenta
Enormous 100-meter-long panting, The 500 Arhats is shown in Japan for the first time.
How did Takashi Murakami manage to create the painting, one of the largest ever produced?
In order to complete it within the limited time frame, Murakami first invited students at art universities around the country, using a process similar to the "scouting caravans" employed by talent agencies. He then formed teams and had them work on the painting around the clock in shift rotation. Murakami's studio, too, was modified and expanded so that the canvases could be laid out side by side up to 50 meters. Ultimately, over 200 individual staff were involved, research materials amounting to more than 100 file books were compiled, and over 4000 silk screens were used.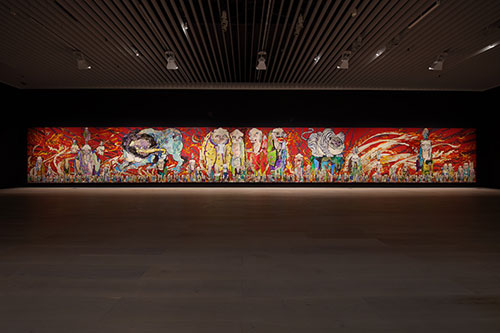 Takashi Murakami
The 500 Arhats [White Tiger]
Installation view: "Takashi Murakami: The 500 Arhats," Mori Art Museum, 2015
Photo: Takayama Kozo
© 2012 Takashi Murakami/Kaikai Kiki Co., Ltd. All Rights Reserved.
The creation of this work was the apotheosis of the studio system Murakami had been working out for the last 20 years or more as part of his effort to revive historical Japanese painter groups akin to the Kanō school. At the same time, it is also a compilation of Murakami's art practice, which has managed to pull off on a grand scale a kind of parody of the tendency for monumental works that started in the U.S. and has spread throughout the contemporary art world since the 1980s.
Some examples from the vast collection of materials used in the production of the work, including sketches, instructions issued to staff, work assignation charts, and schedules are displayed at the exhibition. Also, the significance and sources of some of the principal motifs depicted in The 500 Arhats are introduced on the wall.
 
■Relevant Information
・"Takashi Murakami: The 500 Arhats"
Saturday, October 31, 2015 - Sunday, March 6, 2016
・"Takashi Murakami: The 500 Arhats" Works of Murakami
(1)The 500 Arhats--"Blue Dragon" and "White Tiger"
(2)The 500 Arhats--"Black Tortoise" and "Vermilion Bird"
(3)Making The 500 Arhats
(4)New painting series
(5)The Birth Cry of a Universe
(6)Mr. DOB, Tan Tan Bo, Gero Tan
(7)Bonus! Murakami Arhat Robot