In February 2017, Mori Art Museum will stage a solo exhibition by N. S. Harsha, one of India's leading contemporary artists. Harsha's works reflect the traditional culture and natural environment of his birthplace - the former kingdom of Mysore in southern India - and the connections between man, flora and fauna there. He employs a diverse range of media in his practice; his workshops for children around the world also garnering acclaim.
Ahead of the exhibition, N. S. Harsha will visit Japan and an impromptu special talk on the topic of art and communities will be given! Please join in.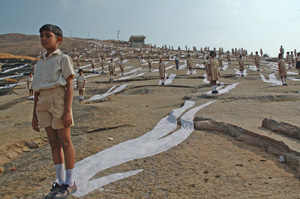 N.S.Harsha Ambition and Dreams: Project designed for TVS Academy, Tumkur,Karnataka,India
2005 Courtesy: TVS Academy, Tumkur, India
Mori Art Museum Impromptu Pre-Talk: N. S. Harsha
* Japanese-English consecutive interpretation available
Speaker: N. S. Harsha (Artist)
Discussant: Kataoka Mami (Chief Curator, Mori Art Museum)
Date & Time: 19:00-20:30, Friday April 22, 2016
Venue: Hills Café/Space (2F, Roppongii Hills Hill Side)
Capacity: 80
Admission: Free (First-come basis)
*Please order one dish from the café menu
"N. S. Harsha" Solo Exhibition
Period: Saturday, February 4 - Sunday, June 11, 2017
Organizer: Mori Art Museum
Curated by: Kataoka Mami (Chief Curator, Mori Art Museum)
[profile]
N. S. Harsha
Born in 1969, N. S. Harsha lives and works in Mysore, India. The artist received a Masters Degree in Painting from the MS University of Baroda in 1995, and is a recipient of prestigious awards including the DAAD Scholarship (2012) and Artes Mundi Prize (2008). His recent major solo exhibition includes his solo presentation as part of the DAAD Artists-in-Berlin Program (2012 - 2013), "Nations" at Iniva, Institute of International Visual Arts, London (2009); and "Leftovers" at Maison Hermès, Tokyo (2008). He has participated in a number of international exhibitions such as the "Kochi-Muziris Biennale (India, 2014)", "Moscow Biennial of Contemporary Art (Russia, 2013)," "Dojima River Biennial (Osaka, 2013)," "Adelaide International Biennial (Australia, 2012); "the Yokohama Triennial (2011)" and "the Bienal de Sao Paulo (Brazil, 2010)." He also participated in the major touring exhibitions, "Indian Highway" at the Serpentine Gallery (London, 2008) and five major museums all over the world, as well as "Chalo! India: A New Era of Indian Art" at the Mori Art Museum which latter traveled to Seoul and Vienna (2008-2009).
Inquiries
Public Programs, Mori Art Museum
Tel: +81(0)3-6406-6101 (Mon-Fri 11:00-17:00)
 
■Relevant Information
"N. S. Harsha"
Period: Saturday, February 4 - Sunday, June 11, 2017