"Roppongi Crossing 2016" marks the fifth of the "Roppongi Crossing" series exhibitions to be staged by the Mori Art Museum. "Roppongi Crossing 2016" features 20 artist groups, with practices spanning the domestic and international art scenes, and here over 8 articles we will showcase a portion of their works, starting with Mohri Yuko's From A.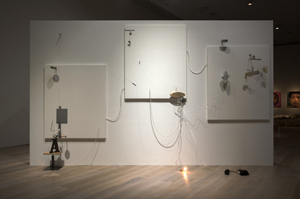 From A
2015‒2016
Metal signage, panel, spoon, motor, flying pans, bell, mirror, compass, triangle, bobbin, counter, wood, fan, model signal, music score clip, cables, wires, duster, light bulb, ribbon, electric board, et al.
500 × 300 × 80 cm
Installation view: "Roppongi Crossing 2016: My Body, Your Voice," Mori Art Museum, 2016
Photo: Nagare Satoshi
Mohri Yuko, who has created kinetic installations using materials that have finished serving their inherent function and subjecting these objects to the effects of wind, light and electricity to produce movement and sound, has attracted attention in recent years, including winning the Grand Prix at the Nissan Art Award 2015.
Although the title of From A (2015-2016) calls to mind the well-known Japanese part-time job magazine of the same name, according to Mohri the idea actually came from her picking up part of a metal signboard in the shape of the letter A while she was staying in New York last year in 2015. As well as being the first letter of the alphabet, A is also associated with archē, a Greek word referring to the underlying origin of the universe. The autonomous moving bodies created from junk that contain errors and fluctuations could be said to be a reflection of the way Mohri looks at things, by focusing on objects and the mutual relations they give rise and trying to understand the way the world is organized.
 
■Relevant Information
・Mori Art Museum
"Roppongi Crossing 2016: My Body, Your Voice"
Period: from Saturday, March 26 - Sunday, July 10, 2016.
・"Roppongi Crossing 2016": Artists and Works
(1) Mohri Yuko
(2) Katayama Mari
(3) Ishikawa Ryuichi
(4) Goto Yasuka
(5) Shimura Nobuhiro
(6) Kobayashi Erika
(7) Jun Yang
(8) Hasegawa Ai