"Roppongi Crossing 2016" is currently on at the Mori Art Museum. In this second round in the series of blogs on the artists and their works, we look at Katayama Mari.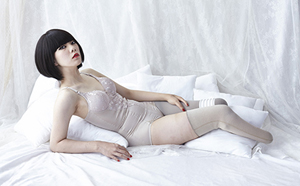 you're mine #001
2014
Lambda print
104.8 × 162 cm
Private collection
Courtesy: TRAUMARIS, Tokyo
Who am I? For Katayama Mari, who was born with various developmental challenges, had both legs amputated at age nine, and has since lived with prosthetics, this has always been a non-trivial question.
The dolls and prosthetic legs that appear repeatedly in her work can be read as an attempt by the artist to objectify her own elusive body through the acts of measuring, dis-assembling and re-joining. The objects that fill the safety zone that is her room give it the aspect of an armory. In addition to the handwork she has practiced for some time, her studying photography as part of the Master's Program at the Department of Intermedia Art, Tokyo University of the Arts also led to the rapid development of her art practice.
Looking at Katayama as she appears in her work, at times exposed, at times with her body encased in a shell, we are prompted to consider the question of who we are, which cannot be taken for granted.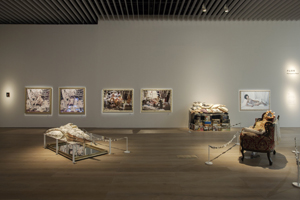 Installation view: "Roppongi Crossing 2016: My Body, Your Voice," Mori Art Museum, 2016
Photo: Nagare Satoshi
 
■Relevant Information
・Mori Art Museum
"Roppongi Crossing 2016: My Body, Your Voice"
Period: from Saturday, March 26 - Sunday, July 10, 2016.
・"Roppongi Crossing 2016": Artists and Works
(1) Mohri Yuko
(2) Katayama Mari
(3) Ishikawa Ryuichi
(4) Goto Yasuka
(5) Shimura Nobuhiro
(6) Kobayashi Erika
(7) Jun Yang
(8) Hasegawa Ai