Mori Mariko Ekpyrotic String II
2014
This work is a metallically-shining circular-ring-shaped sculpture. Its surface and edges are like a three-dimensional Möbius band, and while it seems balanced it is asymmetrical. Many theories about the structure of the universe have been advanced, and this work is inspired be superstring theory.
A recent cyclic model of the universe is brane cosmology, proposing that what existed before the Big Bang was branes, a class of dynamical objects, and the origin of space was caused by the collision of two parallel branes. In fact, space is constantly being created by these collisions between branes. The artist Mori Mariko says: "This theory of space has much in common with the Buddhist theory of reincarnation, and implies that there is no such thing as death when it comes to cosmic energy."
Mori has created many works using the form of Möbius band, and this work is representative of them.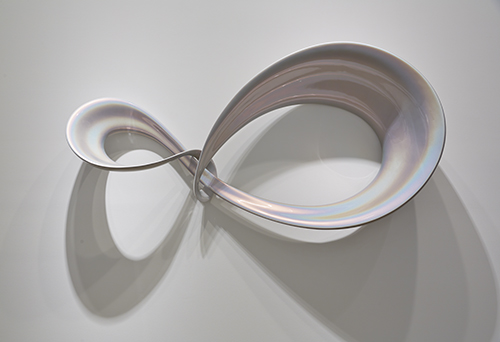 Mori Mariko Ekpyrotic String II
2014 / Fiberglass, Paint / 101 x 200 x 46.2 cm / Collection of the Artist
Courtesy: Sean Kelly, New York and SCAI THE BATHHOUSE, Tokyo
Photo: Jason Wyche
 
■Relevant Information
・The Universe and Art: Princess Kaguya, Leonardo da Vinci, teamLab
July 30, 2016 - January 9, 2017
・MAM Screen 004: Watching the Earth from the Universe
July 30, 2016 - January 9, 2017
・Welcome to "the portal to the universe"!
―"The Universe and Art" work #1: teamLab
―"The Universe and Art" work #2: Meteorite Sword
―"The Universe and Art" work #3: Patricia Piccinini
―"The Universe and Art" work #4: Utsuro-bune (hollow ship)
―"The Universe and Art" work #5: Mori Mariko
―"The Universe and Art" work #6: Mandalas
―"The Universe and Art" work #7: Tom Sachs
―"The Universe and Art" work #8: Semiconductor
―"The Universe and Art" work #9: Galileo Galilei Sidereus Nuncius
―"The Universe and Art" work #10: Björn Dahlem
―"The Universe and Art" work #11: Jules de Balincourt