Over nine installments of this blog, we will introduce some of the works currently on display in the Mori Art Museum's exhibition "N. S. Harsha: Charming Journey." With one of Harsha's iconic works, a work that inspired the artist's repeated depiction of a single motif, let the journey begin.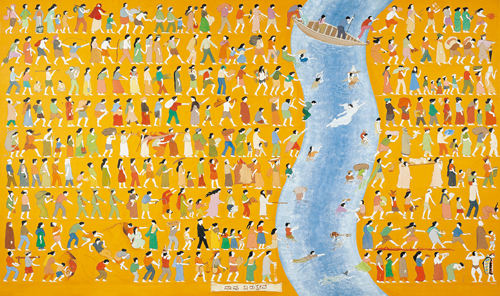 We Come, We Eat, We Sleep (detail)
1999-2001
Synthetic polymer paint on canvas
172.1 x 289.3 cm, 169.7 x 288.5 cm, 172.2 x 289.2 cm
Collection: Queensland Art Gallery, Brisbane
We Come, We Eat, We Sleep inspired the artist to focus on portraying a variety of human actions in parallel with each other. Depicted here are the varied stages of life, from birth to death, alongside everyday acts such as moving, eating, and sleeping. Referencing the repetition seen in traditional Indian sculpture, the human figures depicted here are nonetheless not one and the same person. The central portion of the triptych, "We Eat," was first painted which took Harsha two years to complete.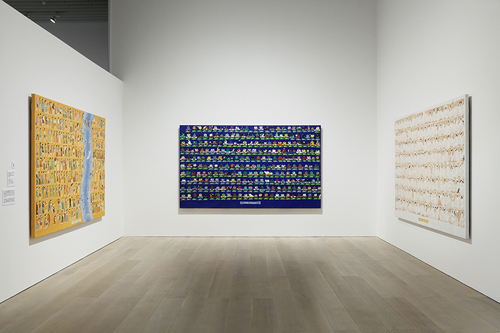 Installation view: "N. S. Harsha: Charming Journey," Mori Art Museum, Tokyo, 2017
Photo: Shiigi Shizune
 
■Relevant Information
・N. S. Harsha: Charming Journey
February 4, 2017 - June 11, 2017
・A "Charming Journey" Round the Works of N. S. Harsha
(1) We Come, We Eat, We Sleep
(2) "Charming Nation" Series
(3) Come Give Us a Speech
(4) Sky Gazers
(5) Nations
(6) Leftovers
(7) Future
(8) Punarapi Jananam Punarapi Maranam (Again Birth, Again Death).
(9) Matter