In N. S. Harsha's ambitious work, Come Give Us a Speech, appears some 2000 figures, each brimming with personality. The work offers new discoveries no matter how many times it is viewed, and that one never tires of viewing.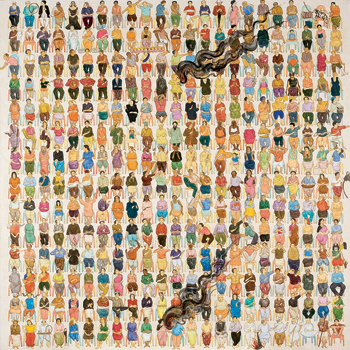 Come Give Us a Speech (detail)
2008
Acrylic on canvas
182.9 x 182.9 cm (x 6)
During the 2000s, N. S. Harsha developed methods for repeatedly portraying various human figures. Although the figures depicted seem to be standing in ordered ranks, their expressions, gestures, emotions, and attire are all different from each other. As a student in the early 1990s, Harsha painted in an expressionistic style. However, during the 2000s he turned his attention to exploring the depiction of individuals in a frank, unaffected way.

Come Give Us a Speech (detail)
2008
Acrylic on canvas
182.9 x 182.9 cm (x 6)
Come Give Us a Speech is an ambitious work that might be said to represent the culmination of his career up until this point. More than 2,000 people have been painted across all 6 panels, but the range and diversity is quite astonishing―among the faces in the crowd are movie heroes and heroines, contemporary art superstars, as well as "regular" people. Seated on the plastic chairs that are so ubiquitous throughout the world, it becomes rather difficult to identify the location. Whole and part, group and individual, repetition and difference: these are all themes that have become increasingly important to Harsha since he produce this work.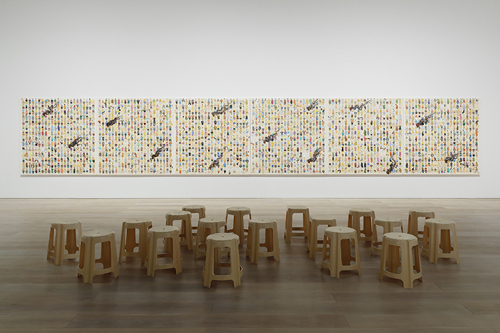 Come Give Us a Speech
2008
Acrylic on canvas
182.9 x 182.9 cm (x 6)
Installation view: "N. S. Harsha: Charming Journey," Mori Art Museum, Tokyo, 2017
Photo: Shiigi Shizune
 
■Relevant Information
・ N. S. Harsha: Charming Journey
February 4, 2017 - June 11, 2017
・A "Charming Journey" Round the Works of N. S. Harsha
(1) We Come, We Eat, We Sleep
(2) "Charming Nation" Series
(3) Come Give Us a Speech
(4) Sky Gazers
(5) Nations
(6) Leftovers
(7) Future
(8) Punarapi Jananam Punarapi Maranam (Again Birth, Again Death).
(9) Matter