Tuesday, February 14, 2017 saw the simultaneous holding of both an "N. S. Harsha: Charming Journey" MAMC Night plus MAMC Annual Cocktail Party for members of the MAMC, Mori Art Museum membership program.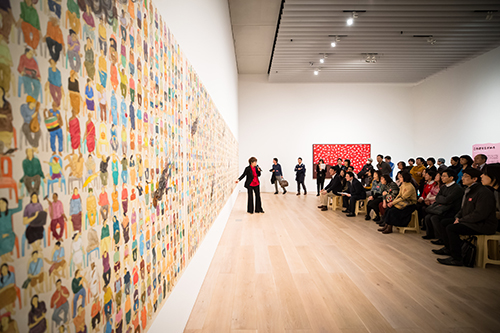 The gallery tour
MAMC Night kicked off with a gallery tour conducted by curator of the exhibition Kataoka Mami (Chief curator, Mori Art Museum). After the tour, attendees headed over to the DIYA Indian Restaurant (B1F, Hillside, Roppongi Hills) - reserved exclusively that night for the MAMC Annual Cocktail Party!
There, featured artist N. S. Harsha joined Kataoka for a talk event that members enjoyed while supping on Indian cuisine.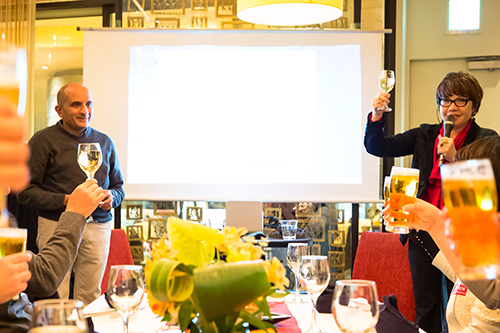 Kataoka proposing a toast at the Annual Cocktail Party.
DIYA prepared an array of special dishes, served buffet-style, for the occasion. And to give guests a little "taste" of the culture of Mysuru, the food was served on banana leaves - a style of eating shown in Harsha's work Leftovers - the idea courtesy of Kataoka.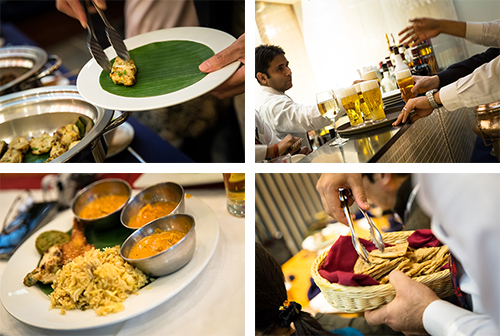 Some of the special fare on offer that night at the DIYA Indian Restaurant, where this year's Annual Cocktail Party was held. In honor of "N. S. Harsha: Charming Journey," Diya is offering a special collaborative menu for the duration of the exhibition.
http://www.mori.art.museum/english/contents/n_s_harsha/news/index.html#news07
Kataoka and Harsha began by talking about when they first met, showing slides that Kataoka had taken on her journey to Harsha's hometown of Mysuru, India as the talk progressed.
Kataoka's first encounter with Harsha's artwork was at the 2006 Singapore Biennale, an installation entitled Cosmic Orphans of sleeping figures painted directly onto the rooftop floor of the Hindu Sri Krishnan Temple. Later, after seeing the different modes of work he showed at exhibitions such as Mori Art Museum's "Chalo! India: A New Era of Indian Art" in 2008, and his solo show at Maison Hermès, Ginza, she wondered why this artist creates such varied works... and her interest was piqued.
Harsha also gave attendees a peek at an image of his very intriguing Mysuru studio, the description of which he mixed with the story of how unbeknownst to him, Kataoka had posted a photo of the studio - which he said he rarely ever shows anyone - on a social networking site!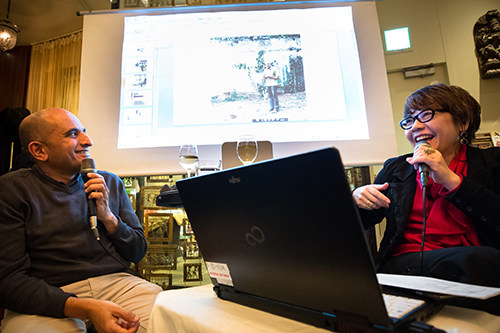 N. S. Harsha (left) and Kataoka (right)
Their talk journeyed on... accompanied by images of the temples that have inspired Harsha's artistic practice, and of the eye-catchingly, dazzlingly colorful Mysuru markets... conjuring up the sense that we were all on a journey, together, guided by the artist and curator.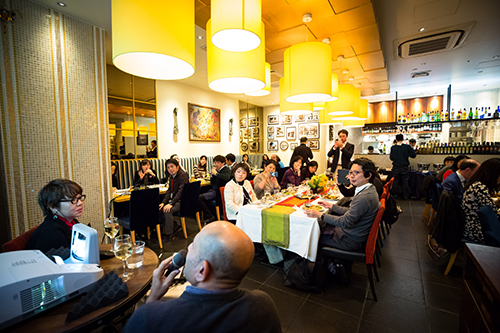 During the talk
After the talk, participants enjoyed chatting with fellow MAMC members and snapping commemorative selfies with the artist - indulging fully in the experiences unique to MAMC membership.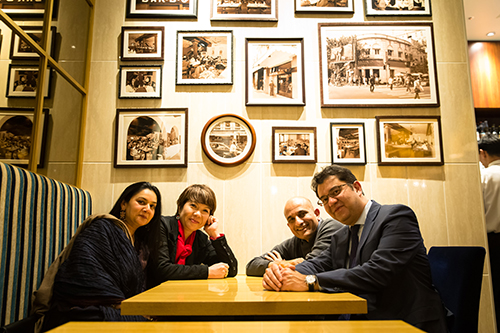 A commemorative photo at the restaurant (from right to left): DIYA restaurant-owner Vivek Kothari, N. S. Harsha, Kataoka Mami, and Kothari's wife, Preeti.
Next up on the MAMC calendar is a MAMC Tour. Join Mori Art Museum director Nanjo Fumio in visiting documenta (Germany), Skulptur Projekte Münster (Germany) and the Venice Biennale (Italy) on the "Once in 10 years! MAMC Tour of 6 night and 8 days to view 3 big art festivals in Europe." Why not experience the cutting edge of contemporary art with like-minded company? We hope to see you on the tour.
For further information see this HIS webpage:
http://eco.his-j.com/pdf/mori.pdf
Text: Imamura Akiko (Marketing Group, Mori Art Museum)
Photos: Mikuriya Shinichiro
 
■Relevant Information
・MAMC Membership
・MAMC members' event
・Up Close and Personal with teamLab's Artworks!
"The Universe and Art" MAMC Night held
・N. S. Harsha: Charming Journey
Period: Saturday, February 4 - Sunday, June 11, 2017