Large-scale works are not uncommon among N. S. Harsha's paintings, which he executes not only on canvas, but also on the likes of floors and walls, the ground surfaces of public parks, and the rooftops of a temple. In the fourth installment of this blog, we look at one such work: Sky Gazers.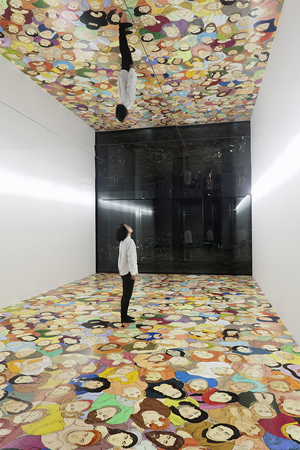 Sky Gazers
2010 / 2017
Acrylic on plywood
975.4 x 488 cm
Installation view: "N. S. Harsha: Charming Journey," Mori Art Museum, Tokyo, 2017
Photo: Shiigi Shizune
Courtesy: Victoria Miro, London
At each and every stage of the development of all kinds of civilizations, humans have always gazed up at the sky. N. S. Harsha, too, recounts how he often used to look up at the night sky as a student while stretched out on the roof, deeply engaged in philosophical reflection.
Sky Gazers is an installation that was produced for the 2010 Liverpool Biennial, the floor of which was blanketed with the faces of countless people. Each of their gazes turns towards the sky and cosmos beyond it. When viewers look up in the same direction, they too, along with the crowd, become part of the starry skies. Where exactly is the self, and where is the world heading? Sky Gazers was made to encourage such philosophical meditations.
 
■Relevant Information
・ N. S. Harsha: Charming Journey
February 4, 2017 - June 11, 2017
・A "Charming Journey" Round the Works of N. S. Harsha
(1) We Come, We Eat, We Sleep
(2) "Charming Nation" Series
(3) Come Give Us a Speech
(4) Sky Gazers
(5) Nations
(6) Leftovers
(7) Future
(8) Punarapi Jananam Punarapi Maranam (Again Birth, Again Death).
(9) Matter