With this installment our series introducing the works of N. S. Harsha draws to a close. The last work we will visit is Matter, a sculpture of monkey that stands on 66 Plaza - the main entrance to Ropongi Hills - pointing to the sky.
"N. S. Harsha: Charming Journey" runs through Sunday, June 11, 2017. Do visit the Mori Art Museum and see the show.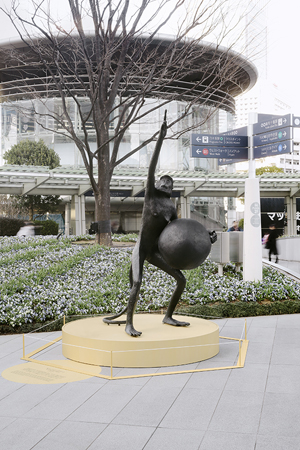 Matter
2014 / 2016
Bronze
278.1 x 137.2 x 165.1 cm
Installation view: "N. S. Harsha: Charming Journey," Mori Art Museum, Tokyo, 2017
Photo: Shiigi Shizune
"Matter" is artwork of a monkey, carrying a sphere in one hand points at somewhere far away in outer space. Human beings have a long history of gazing up at the starry skies and the universe, which also represents the history of human curiosity towards the future and unknown worlds, and the human desire to attain them. The word "matter" typically refers to a concrete substance or thing - but is this monkey trying to bring this unidentifiable mass of matter into outer space? The model for this figure is the Hanuman langur, a monkey that is worshipped deeply in Indian folk religion as the god Hanuman.
 
■Relevant Information
・ N. S. Harsha: Charming Journey
February 4, 2017 - June 11, 2017
・A "Charming Journey" Round the Works of N. S. Harsha
(1) We Come, We Eat, We Sleep
(2) "Charming Nation" Series
(3) Come Give Us a Speech
(4) Sky Gazers
(5) Nations
(6) Leftovers
(7) Future
(8) Punarapi Jananam Punarapi Maranam (Again Birth, Again Death).
(9) Matter