Coop Himmelb(l)au
Villa Rosa 1967
400 x 680 x 680 mm
Collection FRAC Centre,
Orléans, France
Photo by Philippe Magnon


Peter Cook (Archigram)
Instant City in a Field Long Elevation 1/200° 1969
565 x 2200 mm
Collection FRAC Centre,
Orléans, France
Photo by Philippe Magnon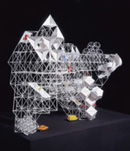 Eckhard Schulze-Fielitz
Raumstadt 1959
700 x 700 x 1350 mm
Collection FRAC Centre,
Orléans, France
Photo by Philippe Magnon


Superstudio
Istogrammi d'architettura(Italian)
Histogram of Architecture(English)
1969-2000
1000 x 11400 x 4650 mm
Collection FRAC Centre,
Orléans, France
Photo by André Morin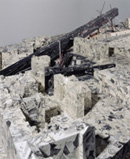 Daniel Libeskind
Berlin City Edge, Bauausstellung Site Model B
1987
510 x 2700 x 1460 mm
Collection FRAC Centre,
Orléans, France
Photo by Olivier Martin-Gambier


R & Sie... (François Roche & Stéphanie Lavaux)
Aqua Alta 1.0 (Aspiration)
1998
195 x 845 x 645 mm
Collection FRAC Centre,
Orléans, France
Photo by Philippe Magnon


KOL / MAC Studio (Sulan Kolatan & William Mac Donald)
Meta_HOM Estouteville 2.0 *(Os*t / Kuttner Residence)
2001
130 x 365 x 310 mm
Collection FRAC Centre,
Orléans, France
Photo by Philippe Magnon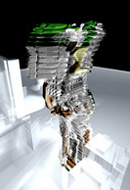 KOL / MAC Studio (Sulan Kolatan & William Mac Donald)
"Resi/Rise Skyscraper"
1999 Projection
©Kol Mac 2003


NOX (Lars Spuybroek)
Soft Office
2000 CG
©NOX (Lars Spuybroek)
Archilab:
"New Experiments in Architecture, Art and the City, 1950-2005 " examines for the first time ever in Japan those radical and visionary approaches to building design and urban planning that, since World War II, have changed the way we think about and use the city. Organized by the Mori Art Museum and the FRAC Centre, Orléans, Archilab features highlights from the collections of the FRAC Centre and the Centre Pompidou, Paris. In more than 220 projects by 90 architects and artists, Archilab revisits urban utopias from the 1950s, analyzes deconstructionist works from the 1980s, addresses the influence of new technology in the 1990s and reflects on the future direction of the current avant-garde.
The models and drawings are shown in four sections corresponding loosely to different decades and concerns: The Pulsating City, The Endless City, The Deconstructed City, and The Contextualized City.


| | |
| --- | --- |
| Curators: | Marie-Ange Brayer (Director, FRAC Centre, Orléans, France), Frédéric Migayrou (Chief Curator of Architecture and Design at the Centre Pompidou in Paris) and Nanjo Fumio (Deputy Director, Mori Art Museum). |


Exhibition designed by Kuma Kengo.


Architects and Artists


Abe Hitosh
Vito Acconci / Robert Mangurian
Actar Arquitectura
Ando Tadao
Paul Andreu
Aoki Jun
Architecture Principe (Claude Parent & Paul Virilio)
Archizoom Associati
Asymptote (Hani Rashid and Lise Anne Couture)
Ban Shigeru
André Bloc
Daniel Buren
Chanéac
C.J.LIM + Studio 8 Architects
Peter Cook (Archigram)
Coop Himmelb(l)au
François Dallegret
Guy Ernest Debord
dECOi
Décosterd-Rahm
Neil Denari
Diller + Scofi dio
Pierre Du Besset & Dominique Lyon
DzO
Peter Eisenman
David Georges Emmerich
Endo Shuhei
EZCT
Didier Fiuza Faustino
Yona Friedman
Vittorio Giorgini
David Greene (Archigram)
Zaha Hadid
Hasegawa Itsuko
Pascal Häusermann
Haus-Rucker-Co
Hans Hollein
Eilfried Huth & Günther Domenig
IaN+
Isozaki Arata
Ito Toyo
Jakob & MacFarlane
Jones Partners Architecture
(Wes Jones)
Kikutake Kiyonori
KOL/MAC Studio (Sulan Kolatan & William Mac Donald)
Rem Koolhaas
Tom Kovac
Kuma Kengo
Kurokawa Kisho
Daniel Libeskind
Antti Lovag
Maki Fumihiko
Gordon Matta-Clark
Morphosis (Thom Mayne, Michaël Rotondi)
Eric Owen Moss
Taeg Nishimoto + Allied Architects
Constant Nieuwenhuys
NOX (Lars Spuybroek)
Objectile (Bernard Cache, Patrick Beaucé)
ONL [Oosterhuis_Lénárd]
ONYX
Claude Parent
Périphériques
Dominique Perrault
Gianni Pettena
Walter Pichler
Martin Pinchis
Ricardo Porro
Arthur Quarmby
R & Sie... (François Roche & Stéphanie Lavaux)
Franco Raggi
Dagmar Richter Studio (DR_D)
Michele Saee
Ionel Schein
Eckhard Schulze-Fielitz
Kazuyo Sejima + Ryue Nishizawa / SANAA
Servo
Graham Stevens
Antoine Stinco (Utopie)
Studio Works / James Turrell
Superstudio
Pierre Székely
Tange Kenzo
Bernard Tschumi
UFO (Lapo Binazzi)
UN studio (Ben Van Berkel & Caroline Bos)
Watanabe Makoto Sei
James Wines & SITE
Yamashita Hideyuki
Yoh Shohei


ARCHILAB at FRAC Centre


The FRAC Centre in Orléans, France, is home to a unique collection of architectural models and documents from around the world, that focuses on the theme of "Utopia and Experimentation" in architecture from the 1950s to the present. Since 1999, the FRAC Centre has presented an annual event, also entitled "Archilab," for visionary international architecture.