• MAMC Annual Cocktail Party
Our 3rd annual MAMC party is a wonderful opportunity for Benefactors and Fellows to become better acquainted with each other and meet MAMC Honorary Member and the Museum staff. This year's event will feature a "talk show" with Hibino Katsuhiko (artist and MAMC Honorary Member) and MAM Director Nanjo Fumio. Please join us for what promises to be a wonderful evening.
Date/Time:

7 December (Thursday), 7:30 p.m. – 9:30 p.m.

Place:

la cascata (Ark Towers East 1F, 1-3-39 Roppongi, Minato-ku)

Attendance:

Only MAM Contemporary Benefactors and Fellows

Guests:

Benefactors may bring up to two guests and Fellows may bring one guest.

Party Ticket
Price:
Members: ¥5,000,
Guest Accompanied by Member: ¥6,000
* Includes a buffet-style dinner of la cascata cuisine.
* To join the event, advance booking is necessary.
Please book by e-mail mamc@mori.art.museum or telephone (03-6406-6123) with your name, membership number, membership category and the name(s) of your accompanied guest(s).
* Please book before Friday, 1 December, 2006.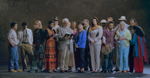 The Raft
2004
Color High-Definition video projection on wall: 5.1ch surround sound
Collection: The Ella Fontanals Cisneros Collection, Miami
Photo: Kira Perov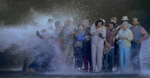 The Raft
2004
Color High-Definition video projection on wall: 5.1ch surround sound
Collection: The Ella Fontanals Cisneros Collection, Miami
Photo: Kira Perov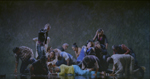 The Raft
2004
Color High-Definition video projection on wall: 5.1ch surround sound
Collection: The Ella Fontanals Cisneros Collection, Miami
Photo: Kira Perov