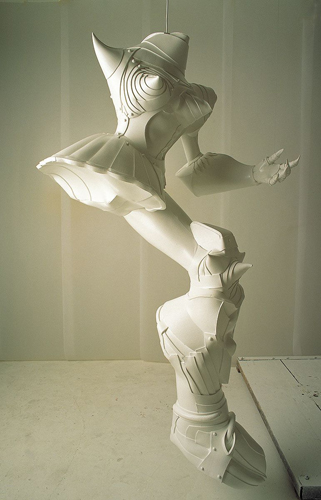 Cyborg W3
1998
cast silicone, polyurethane filling, paint pigment
185 × 81 × 58 cm
Collection: Artsonje Center, Seoul
Courtesy: Studio Lee Bul
Photo: Yoon Hyung-moon
The long-standing human desire to achieve some kind of existence that transcends the limitations of our physical bodies has led to the depiction of cyborgs and robots in science fiction novels, films, anime and other forms of entertainment. The works in Lee Bul's "Cyborg" series are invariably incomplete, with missing heads or limbs, and so they hint at both the desire for such futuristic forms, but also at their impossibility. Their feminine poses and white color remind us of Venus de Milo, but instead of standing on the kinds of plinths that were used in traditional sculpture they are suspended from the ceiling – thus once again suggesting a gap between ideal and reality.