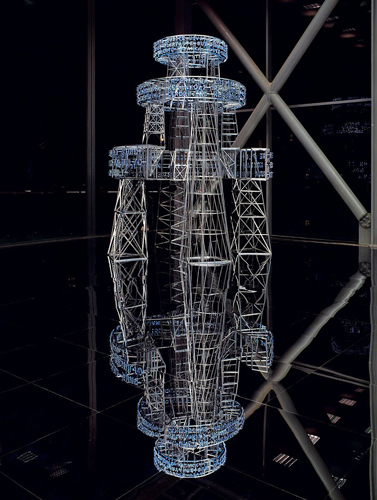 Aubade
2007
aluminum structure, LED lights, electrical wiring, crystal and glass beads
400 × Φ200 cm
ensemble of 10 pieces
installation view: "On Every New Shadow" Fondation Cartier pour l'art contemporain, Paris
Courtesy: PKM Gallery, Seoul
Photo Courtesy: the artist and Fondation Cartier pour l'art contemporain, Paris
Photo: Patrick Gries
Consisting of 10 towers, Aubade includes neon signs that spell out various terms related to utopian theories and modernization. The terms are all in Esperanto, the language developed in the 1880s by Polish linguist Ludoviko Zamenhof with the aim of creating a universal language and thus world peace. Meanwhile, the towers are reminiscent of several works by the Russian avant-garde architect Vladimir Shukhov. Zamenhof and Shukhov's projects both symbolized the utopian theories of the day, and Lee's Aubade conveys her sympathy for those men who pursued their idealistic dreams.