About "MAM Collection"
The collection of Mori Art Museum which focuses on contemporary art from Japan and elsewhere in Asia currently comprises approximately 400 works. The "MAM Collection" is the series of diverse, theme-based exbitions to showcase the collection.
Enjoying contemporary art in a living space-like environment and a dynamic view - this program embodies the Mori Art Museum's motto of "Art + Life."
---
MAM Collection 003: Sutee Kunavichayanont - Stereotyped Thailand
---
---
"MAM Collection 003" features Sutee Kunavichayanont (b. 1965), an internationally acclaimed Thai artist. His work, with a usage of a wide range of media, from three-dimensional works and installations to participatory art projects, deals humorously with themes of Thailand's traditions and present-day reality, history and memory, and nationalism and national identity.
The "Stereotyped Thailand" series showcased in this exhibition was first shown at 100 Tonson Gallery in Bangkok in 2005. For this solo exhibition of his, the gallery is converted into a school classroom featuring sculptures, paintings, and three-dimensional artworks that explore stereotypes of Thailand. By presenting archetypes different to the familiar ones of the Thai people as always "cheerful" and "smiling," the artist humorously questions what is the real image of the nation.
While his work was included in the "Show Me Thai" exhibition in 2007 at the Museum of Contemporary Art Tokyo and he was commissioned by Fukuoka Asian Art Museum to create new artworks in Fukuoka in 2002, this is the first presentation of "Stereotyped Thailand" in Japan. It is also planned to invite the artist to Tokyo for a workshop on Saturday, April 16, with local residents, the record of which will then be exhibited.
Sutee Kunavichayanont
Born 1965 in Bangkok, currently based in Bangkok where he teaches at Silpakorn University. Received BA in Fine Arts (Graphic Arts) from Silpakorn University in 1989, and MA in Visual Arts from Sydney College of the Arts, the University of Sydney in 1992. His major recent solo exhibitions include "Longing for Siam, Inventing Thailand" (2010, Number 1 Gallery, Bangkok) and "The World without Politics" (2012, Valentine Willie Fine Art, Singapore). Major group exhibitions include the 2nd Fukuoka Asian Art Triennale (2002, Fukuoka Asian Art Museum) and the 5th Asia-Pacific Triennial of Contemporary Art (2006, Queensland Art Gallery | Gallery of Modern Art) amongst others.
General Information
| | |
| --- | --- |
| Period: | Saturday, March 26 – Sunday, July 10, 2016 |
| Organizer: | Mori Art Museum |
| Curated by: | Kondo Kenichi (Curator, Mori Art Museum) |
| Venue: | Mori Art Museum |
---
Open Hours:
10:00-22:00 (Tuesdays: 10:00-17:00)
* Tuesday of May 3 open until 22:00.
* Admission until 30 minutes before closing.
* Open everyday.
---
Admission:
Adult: ¥1,800
University / Highschool student: ¥1,200
Child (Age 4 up to Junior highschool student): ¥600
Senior (Ages 65 & over): ¥1,500
* All prices include tax.
* Ticket also valid for "Roppongi Crossing 2016," "MAM Screen," "MAM Research."
* Ticket also valid for Tokyo City View observation deck.
* Additional entrance fee to the Sky Deck is required.
| | |
| --- | --- |
| Inquiries: | +81-(0)3-5777-8600 (Hello Dial) |
---
Original Goods
Postcard
Price: ¥162 (incl. tax)
Exhibition original postcard of exhibition installation photograph.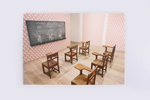 Totebag
Price: ¥1,512 (incl. tax)
Totebag designed with carvings from Sutee Kunavichayanon's exhibit.
Charming, right-sized gusseted bag!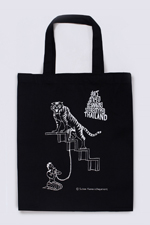 Events
Workshop "Dreamflagtory"
* Conducted in English
For this immersive workshop, participants join "MAM Collection 003" artist Sutee Kunavichayanont in a multi-faceted exploration of the images we as individuals have of particular countries, and the significance of symbols. Workshop participants are asked to envisage national flags for Thailand, Japan and their own home country (or another country), and make these three flags. How will the new flag designs differ from the actual flags?
Instructor: Sutee Kunavichayanont (Artist)
Date & Time: 14:00-17:00, Saturday, April 16, 2016 (Doors open 13:30)
Venue: Mori Art Museum (53F, Roppongi Hills Mori Tower)
For: Ages 6 and over, those able to participate in English
* Children of ages 6-8 should attend with a guardian.
Capacity: 10 groups/pairs (booking required, attendees chosen by lottery)
Admission: ¥500 (materialcost. Exhibition ticket required)
Deadline: Thursday, April, 7, 2016
Bookings: Booked out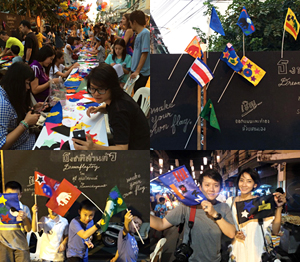 Photo: Sutee Kunavichayanont
Notice Regarding Photography in the Gallery
At the exhibition "MAM Collection 003: Sutee Kunavichayanont - Stereotyped Thailand," you can photograph the artworks under the following conditions.
When taking permitted photographs:
Do NOT touch the works of art.
Do NOT interfere with other visitors' enjoyment of the museum.
Do NOT use flash lighting.
Do NOT use tripods and selfie sticks.
Do NOT FILM the art works.
When using photographs taken of the exhibition:
Photographs may be used for non-commercial purposes only. Photographs may NOT be used for commercial purposes.
Photographs may NOT be altered in any ways.
The conditions above are licensed under the Creative Commons License. When uploading photographs for blogs or any other photo-sharing services, please make sure to display the below marks and phrases with the photograph.
Example:


Artist's name and work title: Sutee Kunavichayanont Stereotyped Thailand / Black Board
This photograph is licensed under "Creative Commons Attribution-Noncommercial-NoDerivative Works 2.1 Japan."