About "MAM Project"
MAM Project is a series of experimental projects produced by the Mori Art Museum in collaboration with artists from around the world.
---
---
MAM Project 023: Agatha Gothe-Snape
---
---
"MAM Project 023" showcases the work of Sydney-based internationally-active artist, Agatha Gothe-Snape (b. 1980).
Gothe-Snape's practice centers on improvised performances employing a diverse range of media and methodologies, from PowerPoint slide shows to participatory workshops, texts, and visual scores (musical scores and instructions). This exhibition, her first solo show in Japan, will present new set of works Oh Window, composed of an installation triggered by the Mori Art Museum's motto "Art + Life," and a series of performances developing out of it.
The artist interprets the "window" as an edge of two sites of the "art" inside an art museum and the "life" outside. As such, she has created imaginary windows in an exhibition space that is, in fact, windowless. These imaginary windows have been made up of graphics, video footage and so on with motifs including conversations between Gothe-Snape and Museum staff, and discoveries the artist has made around Roppongi Hills - looking through which, you may be able to find the already-given roles and functions of "life" providing different expressions of "art."
The performances, designed to complement the content of the installation, will be staged over the duration of the exhibition, not only in the gallery itself, but in settings all around Roppongi Hills. The imaginary windows in the gallery space will serve as visual instructions and scores affecting the subsequent performances, which may result in incremental changes to the view from the "windows."
Furthermore, Oh Window features a wide variety of collaborations with other artists. Most of the video works exhibited in the gallery space were produced in collaboration with Tsuda Michiko, a video artist known for her recent installation and performance pieces. As well, the series of Gothe-Snape's performances planned in Tokyo from April through May will involve collaborations with other artists.
Agatha Gothe-Snape
Born 1980 in Sydney, where she is currently based. Received Master of Visual Arts in 2011 from Sydney College of the Arts, The University of Sydney. Recent solo exhibitions include "Volatile Medium," The Commercial Gallery, Sydney (2016), "Rhetorical Chorus (LW)," Performa 15, New York (2015), "Free Speaking," Studio 12, Gertrude Contemporary, Melbourne (2014), and "Taking Form," Art Gallery of New South Wales, Sydney (2013).
She has participated in major international exhibitions including 20th Biennale of Sydney (2016) and the 8th Berlin Biennale (2014).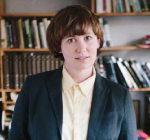 General Information
| | |
| --- | --- |
| Period: | Saturday, February 4, 2017 - Sunday, June 11, 2017 |
| Venue: | Mori Art Museum |
| Organizer: | Mori Art Museum |
| Supported by: | Australia Council for the Arts, Asialink, Arts NSW |
| Curated by: | Kumakura Haruko (Assistant Curator, Mori Art Museum) |
---
Open Hours:
10:00-22:00 (Tuesdays: 10:00-17:00)
* Admission until 30 minutes before closing.
* Open everyday.
---
Admission:
Adult: ¥1,800
University / Highschool student: ¥1,200
Child (Age 4 up to Junior highschool student): ¥600
Senior (Ages 65 & over): ¥1,500
* All prices include tax.
* Ticket also valid for "N. S. Harsha: Charming Journey," "MAM Collection 004" and "MAM Screen 005".
* Ticket also valid for Tokyo City View observation deck (excludes Sky Deck).
* Admission to Mori Arts Center Gallery is not included.
* Additional entrance fee to the Sky Deck is required.
| | |
| --- | --- |
| Inquiries: | +81-(0)3-5777-8600 (Hello Dial) |
---
Events
■Artist Talk
* Japanese-English simultaneous interpretation available
Agatha Gothe-Snape will talk about her new work Oh Window in the exhibition, later joined by artist Tsuda Michiko who collaborated with Gothe-Snape on this new project. Following the talk, approximately 15-minute performance by Gothe-Snape along with artist / musician Anna John will be given in the "MAM Project 023" exhibition space.
Speakers: Agatha Gothe-Snape (Artist), Tsuda Michiko (Artist)
Post-Talk Performers: Agatha Gothe-Snape, Anna John (Artist / Musician)
Date & Time: 14:00-15:30, Saturday, February 4, 2017 (Doors open: 13:30)
Venue: Auditorium, Mori Art Museum
Capacity: 80 (booking required)
Admission: Free (exhibition ticket required)
Booking: * Booked Out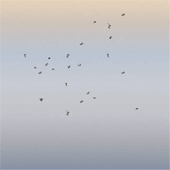 ---
■Teens' Program "Meet the Artist"
* Conducted in Japanese
An opportunity for teenagers from third-year junior high school age up (ages 15-19) to take in the exhibitions at their leisure, then discuss it in their own words. The participating teens would be viewing the exhibitions, followed by the experience of discussion (partly shared with the "Seniors' Program" for "N. S. Harsha" exhibition, held on the very same day) on the first day. On the last two days, they are to share their views directly with artists Agatha Gothe-Snape and N. S. Harsha.
Date & Time:
Day 1
10:00-12:30, Sunday, February 19, 2017
* Program will be partly shared with the "Seniors' Program" for "N. S. Harsha" exhibition.
Day 2
10:00-14:30, Saturday, March 25, 2017
Featuring: Agatha Gothe-Snape
Day 3
10:00-14:30, Sunday, April 23, 2017
Featuring: N. S. Harsha ("N. S. Harsha: Charming Journey" Artist)
Venue: Mori Art Museum
For: Teens (ages 15-19)
Capacity: Approximately 15 (booking required)
Admission: Free
Booking: * Booked Out
* Before booking, please note that participants must attend all 3 days of the program.
* Attendees will be chosen by lottery if we receive too many bookings. The result of the lottery will be sent to each by Wednesday, February 8, 2017 via email.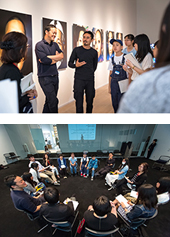 Notice Regarding Photography in the Galleries
At the exhibition "MAM Project 023: Agatha Gothe-Snape," you may photograph the artworks under the following conditions.
When taking permitted photographs:
Do NOT touch the works of art.
Do NOT interfere with other visitors' enjoyment of the museum.
Do NOT use flash lighting.
Do NOT use tripods and selfie sticks.
NO FILMING ALLOWED.
When using photographs taken of the exhibition:
Photographs may be used for non-commercial purposes only. Photographs may NOT be used for commercial purposes.
Photographs may NOT be altered in any ways.
The conditions above are licensed under the Creative Commons License. When uploading photographs for blogs or any other photo-sharing services, please make sure to display the below marks and phrases with the photograph.
Example:



Artist's name and work title: Agatha Gothe-Snape Rhetorical Chorus (LW)
This photograph is licensed under "Creative Commons Attribution-Noncommercial-NoDerivative Works 2.1 Japan."
* For details about the Creative Commons License and marks, please see the Creative Commons Japan website: http://creativecommons.jp
* If photographs that include other museum visitors are made public, they may infringe on that person' s right of portrait.
---
Past Exhibition

MAM Project 022


Jacob Kirkegaard

September 20 [Sat], 2014 - January 4 [Sun], 2015

MAM Project 021


Melvin Moti

May 31 [Sat] - August 31 [Sun], 2014

MAM Project 020


Gabriel Acevedo Velarde

February 1 [Sat] - May 6 [Tue], 2014

MAM Project 019


Emre Hüner

September 21 [Sat], 2013 - January 13 [Mon], 2014

MAM Project 018


Yamashiro Chikako

November 17 [Sat] - March 31 [Sun], 2013

MAM Project 017


Lee Changwon

June 16 [Sat] - October 28 [Sun], 2012

MAM Project 016


Ho Tzu Nyen

February 4 [Sat] - May 27 [Sun], 2012

MAM Project 015


Tsang Kin-Wah

September 17 [Sat], 2011 - January 15 [Sun], 2012

MAM Project 014


Taguchi Yukihiro

March 26 [Sat] - August 28 [Sun], 2011

MAM Project 013


Katerina Seda

November 27 [Sat], 2010 - February 27 [Sun], 2011

MAM Project 012


Tromarama

July 24 [Sat] - November 7 [Sun], 2010

MAM Project 011


Jules de Balincourt

March 20 [Sat] - July 4 [Sun], 2010

MAM Project 010


Tellervo Kalleinen
and Oliver Kochta-Kalleinen

November 28 [Sat], 2009 - February 28 [Sun], 2010

MAM Project 009


Koizumi Meiro

July 25 [Sat] - November 8 [Sun], 2009

MAM Project 008


Araki Tamana

August 9 [Sat] - November 3 [Mon], 2008

MAM Project 007


Saskia Olde Wolbers

April 25 [Fri] - July 13 [Sun], 2008

MAM Project 006


Nishi Tatzu

July 11 [Wed] - September 24 [Mon], 2007

MAM Project 005


John Wood and Paul Harrison

February 28 [Wed] - May 6 [Sun], 2007

MAM Project 004


Choe U-Ram's

March 10 [Fri] - May 7 [Sun], 2006

MAM Project 003


ROR
[Revolutions on Request]

May 14 [Sat] - July 18 [Mon], 2005

MAM Project 002


Jun Nguyen-Hatsushiba

May 29 [Sat] - July 19 [Mon], 2004

MAM Project 001


Santiago Cucullu

January 31 [Sat] - March 28 [Sun], 2004