About "MAM Research"
Japanese and Asian contemporary art is one of the main focuses of the Mori Art Museum's programs, yet "Asia" covers a broad territory, making it difficult to grasp an overall picture of it. The "MAM Research" series intends to examine the multi-layered social, political and economic backgrounds that have given rise to Asian contemporary art and sees to shed light on their historical contexts, while focusing on individual artists, curators, art movements and art institutions throughout Asia. Premised on collaborative projects with archives, research institutions and scholars, "MAM Research" does not limit exibited items to "artworks" but also presents such materials as videos, photographs, texts and historical records.
---
---
MAM Research 004: Video Hiroba - Reexamining the 1970s Experimental Video Art Group
---
---
Video Hiroba was an experimental video art collective formed in Japan in 1972. Its members included Nakaya Fujiko, Yamaguchi Katsuhiro, Kawanaka Nobuhiro, Kobayashi Hakudo, Matsumoto Toshio, Hagiwara Sakumi, and Wada Morihiro among other artists and creators. Utilizing what at the time was the latest media technology as a tool for communication, the members collaborated with each other to engage with social movements and foster debate among ordinary citizens through the medium of video. Their unique activities aspired to create a media that could form an alternative to the mass media. The group's experiments also included publishing magazines, disseminating reports on their activities and developing discourse, and renting out video cameras and other equipment at low prices. Even after the group disbanded, many of the members continued to work as artists and strongly influenced the contemporary art scene.
This exhibition features video works by the key members of Video Hiroba as well as photographs, texts, publications and other materials in an attempt to reassess the activities of the collective from the perspective of today.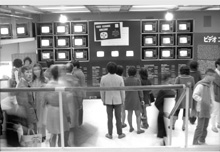 General Information
| | |
| --- | --- |
| Period: | Saturday, July 30. 2016 - Monday, January 9, 2017 |
| Organizer: | Mori Art Museum |
| Curated by: | Kondo Kenichi (Curator, Mori Art Museum) |
| In Cooperation with: | Nakaya Fujiko, Sakamoto Hirofumi (Associate Professor, Wakkanai Hokusei Gakuen University) |
| Venue: | Mori Art Museum |
---
Open Hours:
10:00-22:00 (Tuesdays: 10:00-17:00)
* Admission until 30 minutes before closing.
* Open everyday.
---
Admission:
Adult: ¥1,600
University / Highschool student: ¥1,100
Child (Age 4 up to Junior highschool student): ¥600
* All prices include tax.
* Ticket also valid for "The Universe and Art" and "MAM Screen."
* Admission to Tokyo City View and Mori Arts Center Gallery is not included.
* Additional entrance fee to the Sky Deck is required.
Inquiries:
+81-(0)3-5777-8600 (Hello Dial)
---
Notice Regarding Photography in the Gallery


Photography is not permitted in the gallery of "MAM Research 004: Video Hiroba - Reexamining the 1970s Experimental Video Art Group" exhibition.
---
PAST MAM Research
---
April 25 [Sat] - July 5 [Sun], 2015

July 25 [Sat] - October 12 [Mon], 2015