A special talk event at TSUTAYA TOKYO ROPPONGI with director of Mori Art Museum Nanjo Fumio, and architect Rem Koolhaas, who had travelled to Japan to attend the symposium organized in conjunction with the exhibition "Metabolism, the City of the Future: Dreams and Visions of Reconstruction in Postwar and Present-Day Japan". Here is the fifth installment in a series of five reports by Tokyo Art Beat's Naoki Matsuyama.
 
--------------------------------------- 
In the previous installment, Koolhaas stated that the final authority in society is now in the hands of not politics but the private sector that controls the market economy, creating limitations for architects, who end up predominantly working for the private sector. He intoned that the public sector must regain power to change this situation. But it is not just politics that Koolhaas feels the market economy has eroded. As an architect working in today's world he is perplexed at an even more personal level.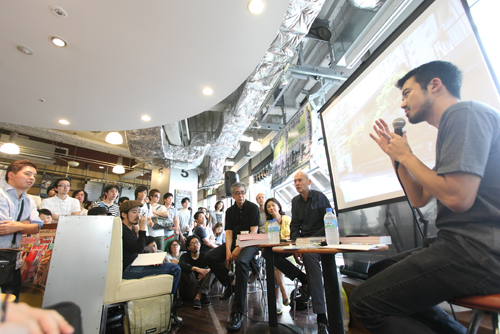 Special Talk to commemorate the publication Project Japan: Metabolism Talks...
By Rem Koolhaas and Hans Ulrich Obrist
Photo: Mikuriya Shinichiro
There's a constant pressure on architects today to talk about yourself, even if you're not interested in talking about yourself. Everyone is inside a kind of bubble of megalomania. At the same time, architects who work internationally have completely lost connections with their own country. If I talk about a "French architect", the concept simply doesn't exist anymore. But the fact of being a Japanese architect is still a relevant distinction or definition. I was really extremely interested in finding out why.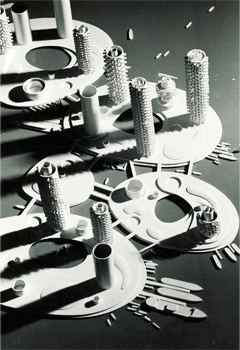 Kikutake Kiyonori  Marine City 1963  1963/1980s (Model)
Collection: Kikutake Kiyonori  Courtesy: Kikutake Kiyonori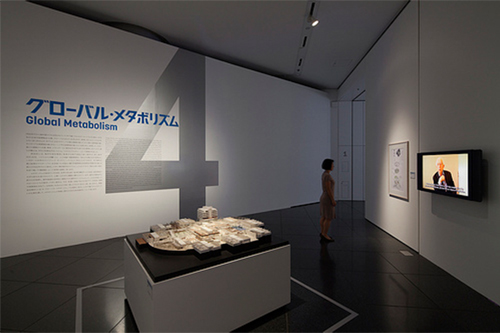 "Metabolism, the City of the Future: Dreams and Visions of Reconstruction in Postwar and Present-Day Japan"
Installation view: Mori Art Museum
Photo: Watanabe Osamu
With politics made impotent and architects cut off from their own culture by the market economy, it has become inconceivable to be able to work on projects on the scale of nation-building. This may be the realization that made Koolhaas "hesitate" in touching on the possibility that Metabolism may be able to make a significant contribution to Japan today, when answering the question of whether he thought Metabolism has become a thing of the past.
His statements above imply that his standpoint is shifting from the past, in which he put forward incendiary statements resulting from an uncompromising scrutiny of the significance of the market economy and consumer culture. His following remark during the talk is indicative of this: "In the early Eighties and Nineties I was able to adopt a pose of neutrality or even a lack of morality. And I think that pose was very productive because everyone was just complaining. But it is becoming increasingly difficult for me to do that."
We should not understand this, however, as a white flag.
I believe that the last time the government and architects managed to work together was the period of the Metabolists. So I was interested in looking at where we are now compared to that time when the situation was fundamentally different.
To read the present through Metabolism in order to seek out the possibilities and directions of today. That labor is a prerequisite for us to be able to reattain our ability to think about and imagine potential futures. Published and organized in the same period, the book Project Japan and the exhibition at the Mori Art Museum provide us with the groundwork to do just this, prompting discoveries and actions that are of imperative importance for us today.
Matsuyama Naoki (Tokyo Art Beat writer)
Yoshioka Rie, William Andrews (Tokyo Art Beat)
 
■Relevant information
・Rem Koolhaas x Nanjo Fumio
(1) Why Metabolism now?
Looking back at the period of the Metabolists through the eyes of today
(2) Why Metabolism now?
Is Metabolism a thing of the past for a shrinking Japan?
(3) Metabolism and Politics
Are politicians and bureaucrats the real "architects"?
(4) Architecture Today and Its Problems
What kind of limitations does Koolhaas feel as an architect?
(5) Architecture Today and Its Problems
・"Metabolism, the City of the Future:Dreams and Visions of Reconstruction in Postwar and Present-Day"
17 September (sat), 2011 - 15 January (sun), 2012
・Mori Art Museum on Flickr
"Metabolism, the City of the Future: Dreams and Visions of Reconstruction in Postwar and Present-Day Japan"