Mori Art Museum presents "Arab Express: The Latest Art from the Arab World" (till 28 October, 2012).
Following on from our three-part interview with Nanjo Fumio, we next speak with Kondo Kenichi (Associate Curator, Mori Art Museum) about the exhibition and some of the artworks included.
- About the exhibition and "Section 1: Everyday Life and Environment"
Kondo: In this exhibition we are introducing the latest in Arab contemporary art in three sections.
In the first section, we have brought together works by which you can get a peek into the everyday lives of the Arab people. Television and magazines tend to be the key media by which we learn about the Arab world, and they tend to focus on disconcerting images of wars; the democracy movement and consequent repression; and also civil strife. But if you actually go to the region what invariably strikes you is the sight of the locals just going about their lives. Unfortunately, that rich everyday lifestyle is not well known in Japan, so the idea in Section 1 is to show it and get viewers to think about how it differs and how it is similar to our own lifestyle here in Japan.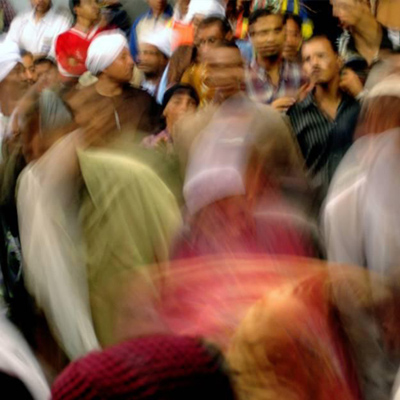 Moataz Nasr
Cairo Walk
2006
Photograph mounted on aluminum
40 x 40cm (each)
Collection: GALLERIA CONTINUA, San Gimignano / Beijing / Le Moulin
Kondo: One significant aspect of this exhibition is that it allows us to show the diversity of the Arab world.
People have a tendency to group the Arab region together as one and assume that the Arab people are all the same. But, if you compare, for example, the Gulf region, which has gained economic strength through the oil industry, with Egypt, which historically was a center of culture and politics, and Lebanon, which is 30% Christian, then you realize that the lifestyles are completely different.
So there are different cultures and different people, and hence there are many types of different lifestyles. This is one thing I wanted to show through the works in the exhibition.
For example, Moataz Nasr (who lives and resides in Egypt) is showing a photographic installation called Cairo Walk. The artist himself lives in Cairo and the installation consists of photos that show aspects of life he has discovered in the city. They really give you a sense of Cairo's lively and colorful lifestyle.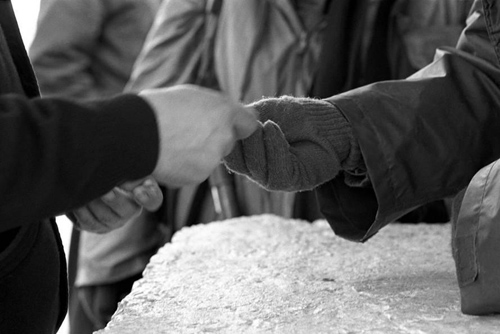 Rula Halawani
Intimacy
2004
Archival black and white digital print
47 x 72 cm (each)
Courtesy: Selma Feriani Gallery, London
And of course there are other lifestyles, too. Rula Halawani (born, resides in Jerusalem) depicts one in her black and white photographic series titled "Intimacy." At first glance the photographs are confusing, appearing to show just paper documents passing through various sets of hands, but in fact this is a checkpoint operated in Palestine by the Israeli army. The work captures what a key part of daily life for these Palestinians is, and that is going through the checkpoints for even regular outings such as going to school or the hospital. In Japan, we tend to imagine a strong contrast between the peaceful, "normal" lifestyle we enjoy here and the "abnormal" lifestyle we assume is taking place in a country where war or conflict is ongoing. But in many areas of the Middle East, "normal" life goes on even alongside conflict.
And, as everyone knows, a wave of democratization is sweeping the region, bringing particularly sudden change to some areas, while in other areas people have been enduring tough circumstances for decades. In many areas, people live with the knowledge that at any time they could be exposed to danger. Understandably, this increases the intensity with which they approach each day.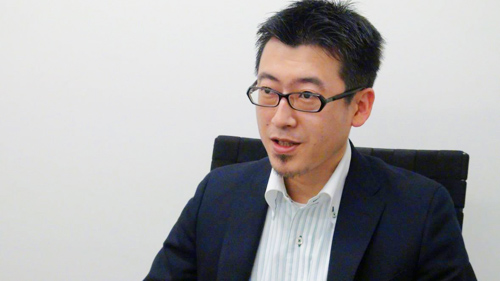 Kondo Kenichi (Associate Curator, Mori Art Museum)
- About "Section 2: The Image of Arab: Gaze from Outside, Voices from Inside"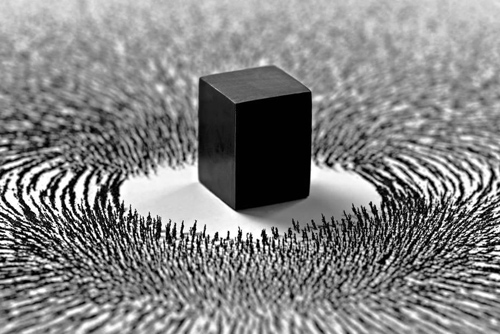 Ahmed Mater
Magnetism 2012
Courtesy: Edge of Arabia
Kondo: The focus in Section 2 is on the image that people have of the Arab world, or what might be called the "Arab-esque" identity. And the opposite side of that coin is the problem of the stereotypes that people often use in reference to the Arab region.
The clearest example of an artwork addressing these issues is Magnetism, by Ahmed Mater (born, resides in Saudi Arabia). It is a black and white photograph, and at first glance anyone will be able to tell what it is about. The scene depicted immediately brings to mind the famous gathering of pilgrims at the Kaaba Mosque in Mecca - one of Islam's most recognizable symbols.
However, what is in fact depicted in his photograph is a black cubic magnet and metal filings that are being pulled by its magnetic force into a swirling pattern around it. The work cleverly shows up the similarities between the scientific mechanism by which a magnet attracts metal and the way a religious mosque attracts pilgrims. The work is as straightforward and attesting as an advertising photograph.
If we go back to the discussion of stereotypes, the truth is that historically the West has imposed a notion that the Arab world is behind the times, opaque, and primitive.
And as a result, it has continued to be represented as being not only homogenous but the opposite of the West. And it's a fact that we, too, in Japan view the Arab world through these stereotypes.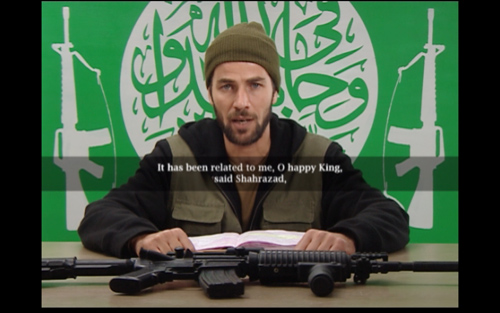 Sharif Waked
To Be Continued
2009
Video installation
41 min. 33 sec.
Collection: Sharjah Art Foundation, UAE
One such stereotype is the idea that "all Arabs are terrorists," and an artwork that responds to that stereotype is Israel-based Palestinian Sharif Waked's video To Be Continued. In the video, a man sits behind a gun and appears to be making a speech before he tries to achieve martyrdom through some act of terrorism. In fact, all he is doing is reading from the epic One Thousand and One Nights. When the viewer eventually realizes this, he or she is made to reflect on his or her initial assumptions and prejudices.
The flag in the background includes images of guns and it really makes you assume he must belong to some kind of armed resistance, but in fact it is all a creation of the artist. This is a fascinating work.
■Relevant information
・Interview: Nanjo Fumio on "Arab Express"
Part 1 Comparing the Arab world of the 1970s with that of today
Part 2 Why is the world fascinated with Arab contemporary art?
Part 3 An exhibition to encourage cultural diplomacy, mutual understanding
・Interview: Kondo Kenichi on "Arab Express"
Part 1 Want to show Japan the diversity of the Arab world
Part 2 Exhibition highlights: Black Fountain and "Arab Lounge"
・"Arab in One Minute"
File-01 The Arab World on Screen
File-02 My first time at the cafe, the meeting place of men
File-03 Lamb or Chicken, That Is the Question / Cuisine and Hospitality
File-04 Ruins from Time Immemorial: Mesopotamia, the Birthplace of Civilization
File-05 The Beauty is in the Geometry: Calligraphy and Arabesque
"Arab Express: The Latest Art from the Arab World" introduces the work of about 30 artists from the Arabian Peninsula and surrounding Arab countries. This exhibition will bring you up to date with the latest developments from an art scene that is now the focus of international attention.
・Arab Express: The Latest Art from the Arab World
16 June - 28 October, 2012