Part 2 of "Aida Makoto in a Minute" continues with the interview delving into the artist's thoughts about his new works to be unveiled at this exhibition, and about the experimental new Heisei Kanjin Project. We hope this will inspire you to visit the Mori Art Museum to see "Aida Makoto: Monument for Nothing," his first-ever, large-scale solo exhibition, which opens on November 17.
"Aida Makoto: Monument for Nothing"
Saturday, November 17, 2012 - Sunday, March 31, 2013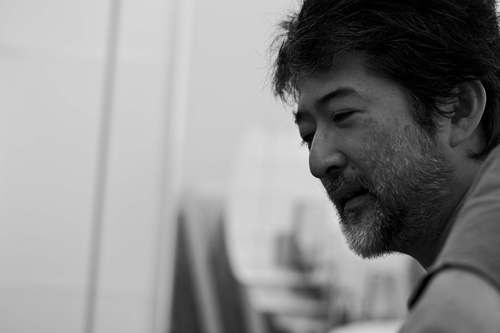 Aida Makoto (artist)
-- Is there anything about your first-ever exhibition at an art museum that you absolutely insist on, or that you've felt especially strongly about?
"No. I think I wanted more than most people to have an exhibition at an art museum. After all, I can't produce works that private collectors might be expected to enjoy hanging in their own living rooms. But that said, the sexual pictures that I do paint are rather small in size, and I do believe I'm providing enjoyment to the people who collect erotic art of that kind. At the same time, some of my pictures are also a bit like billboards. At least, they're very large, and I created them with the idea that they would be rather like monuments; that people would see from far away, as they do billboards. For precisely that reason, I was looking to have them exhibited in a public space like an art museum, where anyone who pays the entry fee can go in to see them. Those two contradictory sentiments coexist inside me, to paint erotic art and to have my works shown in public (laughs). You know, that's why there have been more pictures lately like Giant Salamander and Picture of Waterfall, in which I've tried to keep the eroticism at a level where they could just about be acceptable to a public gallery. Among my new works is one called Jumble of 100 Flowers, in which a group of naked girls are being shot to pieces with guns. I don't think hearing it described in these words gives a very good impression, but I've made it a lot less gruesome than it sounds. Even though the girls are being shot, blood isn't spurting out all over the place. Instead, nice cute things like strawberries, flowers, and diamonds are being scattered from their wounds. And I've toned down the rawness by giving the girls skin that has the quality of Licca-chan dolls."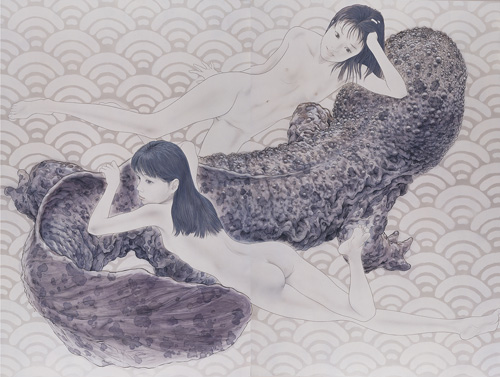 Giant Salamander
2003
Acrylic on panel
314 x 420cm
Takahashi Collection, Tokyo
Courtesy: Mizuma Art Gallery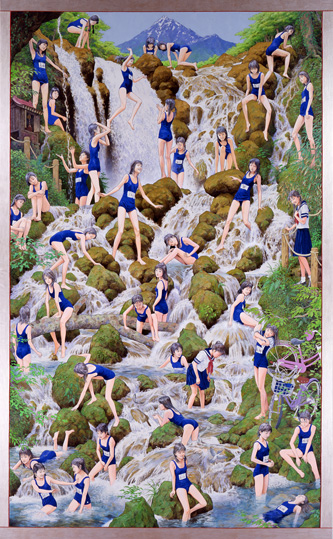 Picture of Waterfall
2007-10
Acrylic on canvas
439 x 272cm
Collection: The National Museum of Art, Osaka
Courtesy:Mizuma Art Gallery
-- So, what is it about the new works that you think most important for people to look at? Is it the way you've sought to incorporate sexual motifs into such large, monumental pieces?
"Yes, I guess so. They're all so large in size, that they couldn't be shown in a regular gallery. And as I have to climb up and down a ladder all the time to paint these big pictures, they take a lot more physical strength than you'd think. I'm actually just one step away now from old age, but my body still moves quite well. Perhaps it's some kind of premonition that this will all be too physically demanding before much longer... It's already quite exhausting, though (laughs). Anyhow, realistically, I'm thinking I may have about 10 years more of painting such crazy big pictures."

Encounter of the Fat and the Slim with Ten-thousand Yen Bill Background
2007
Acrylic, ink-jet print on canvas
450 x 1000cm
Computer graphics: Hayashi Yasutaka
Courtesy:Mizuma Art Gallery
-- This exhibition is accompanied by "Heisei Kanjin Project," a new initiative to recruit financial support for the event from private individuals (2). There's been a lot of communication with fans on Twitter and Facebook and the like, hasn't there?
"To tell the truth, that's not something I thought up and planned myself. The reason for it is that it was very difficult to find a single large sponsor. But it's quite common for museums overseas to seek to raise funds in this manner from private individuals. And I think the curator at the Mori Art Museum was keen to try out some project of that kind."
*2. Aida Makoto: Heisei Kanjin Project
http://www.mori.art.museum/english/contents/aidamakoto/index.html
-- Was it your idea to give each and every one of the supporters a limited edition of Jumble of 100 Flowers (3), or a limited edition multiple of The Non-Thinker which features your alter-ego, "Onigiri Kamen (riceball-mask man)" (4)?
"Talk of such benefits arose at the time I was doing a study for Jumble of 100 Flowers. The thought came up that if I added some color to the study, it might be possible to use it. This really is a true esquisse. In the art world there are two kinds of esquisse: those that are real preliminary studies and those that are faked. The blatant fakes are produced for sale after the main work has been finished. There are countless fake esquisses doing the rounds, created by working back from the resulting picture. The esquisse I'm putting out there on this occasion really is a byproduct of the process as I was trying things out on the way to painting something that didn't yet exist. So the picture that I finally came up with is actually very different from the study. The work came together as a result of my reflections on this study and my conclusion that it would be better to do things another way. It's not such a desirable thing for an artist to have intermediate stages of his works out in public like this, so it's something I don't plan to do again in future. I think it's likely to be a very rare event, for this time only."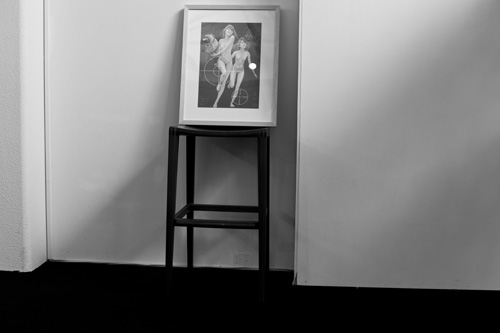 Jumble of 100 Flowers, the limited edition print produced for the "Heisei Kanjin Project"
contributions of ¥15,000.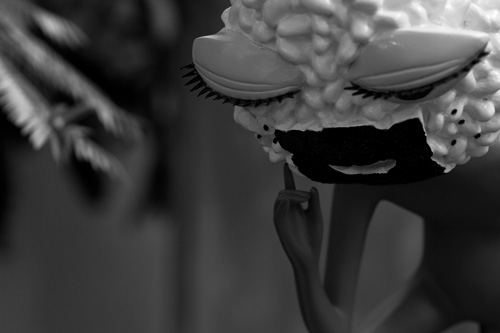 The Non-Thinker, the limited edition multiple produced for the "Heisei Kanjin Project"
contributions of ¥500,000.
*3 Jumble of 100 Flowers is the limited edition print produced for Heisei Kanjin Project
contributions of ¥15,000.
http://www.mori.art.museum/english/contents/aidamakoto/sanka/index.html#002
*4 The Non-Thinker limited edition multiple produced for Heisei Kanjin Project
contributions of ¥500,000.
http://www.mori.art.museum/english/contents/aidamakoto/sanka/index.html#003
Photo: Konami Jiro
Text & Edit : Hattori Madoka
 
■Relevant information
・"Aida Makoto in a Minute"
1. "Because we view them in secret, erotic publications take on an extra level of interest"
2. "About another 10 years painting crazy big canvases"
3. "Disintegration and demise of the Japanese spirit"
・"Aida Makoto: Monument for Nothing"
Saturday, November 17, 2012 - Sunday, March 31, 2013