Last time Aida Makoto explained the "Heisei Kanjin" Project. In this final part of our interview, he talks about the younger artists he has been working with, and reflects on the influence on his work of the 2011 Great East Japan earthquake.
"Aida Makoto: Monument for Nothing"
Saturday, November 17, 2012 - Sunday, March 31, 2013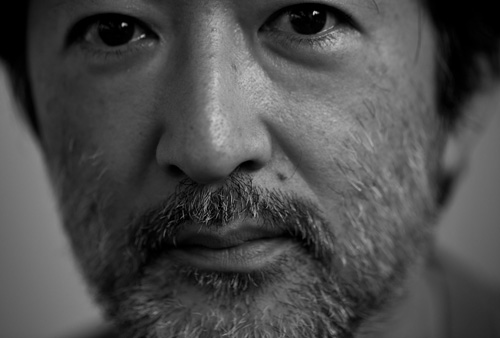 Aida Makoto (artist)
-- How big a part in your thoughts do other mid-career artists of your generation play, like Nara Yoshitomo who recently had a solo exhibition at the Yokohama Museum of Art and the Group 1965, or the younger-generation artists around you, like Chim↑Pom?
"I do take some interest in other artists of my own age group who made their debuts in the early 1990s, though it might be a little inaccurate to describe us as anything like comrades. Well, maybe it could be said that I recognize them as being of the same vintage as me. I suppose you could say that's some sense of comradeship. Even so, I don't know much about the artists who are now active overseas, and I don't go to documenta or the Venice Biennale. When I'm doing my own work, I do have one eye on the goings on of other Japanese artists who made their debuts at the same time as me in deciding my own position.
As for the younger artists around me, they all seem to be people who don't share my tastes. Not only are they not interested in using finely pointed brushes to inscribe painstakingly detailed outlines, if anything they go out of their way to avoid it. Rather than any mini-me disciples, it's more like most of them are totally different types of artists from me. They don't seem to be artists who would read books of theory and such and then discuss the ideas they came across there. About the only thing we seem to have in common, in fact, is that we all like to drink alcohol. (Laughs)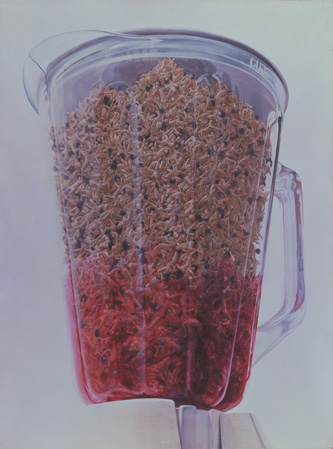 Blender
2001
Acrylic on canvas
290 x 210.5cm
Takahashi Collection, Tokyo
Courtesy: Mizuma Art Gallery
-- You've been working steadily with students, haven't you, on workshopping the huge "MONUMENT FOR NOTHING II," which you're putting together from cardboard?
"It came initially out of a request I received from an art college to do a workshop in a large exhibition space. The project emerged from my contemplation of what I might be able to do if I undertook a workshop with students. Actually, it's something that demands a lot of perseverance right the way through. At the beginning we started out with a large number of people, but the students who've stuck with it and are still there at the end are very few. Those who've stayed the course are all silent types, who generally get on with their tasks without saying much at all. Deep down, I'm the silent type as well, so as we're nearing the end of the project, we're laboring away dispassionately in a deathly quiet space. There's no need for verbal communication, in a good way. I don't know if the students who've stayed with it to the end will become artists or not, but they're all capable of perseverance so I'm sure they'll succeed at something. They're totally different from the noisy types who like to be the center of attention. I didn't plan it that way, but it's interesting how it's turned out."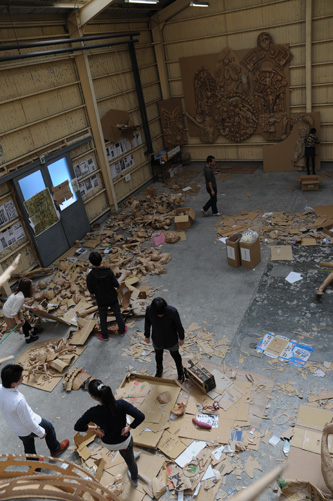 MONUMENT FOR NOTHING II
2010
Work in progress at Tohoku Seikatsu Bunka University
Courtesy: Mizuma Art Gallery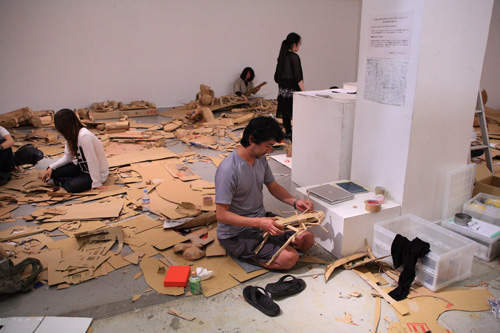 MONUMENT FOR NOTHING II
2008
Work in progress at Nagoya University of Arts
Courtesy: Mizuma Art Gallery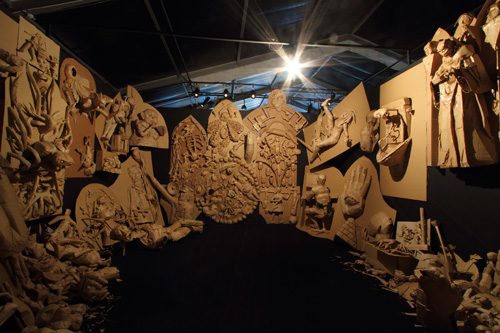 MONUMENT FOR NOTHING II
2010
Work in progress at the TDW-ART "Jalapagos" tent set up at Meiji Jingu Gaien
Courtesy: Mizuma Art Gallery
Photo: Miyajima Kei
--The documentary film Aida: a Natural-Born Artist (Dasaku no naka ni dake ore ga iru), which is being screened concurrently with the exhibition, follows the process of you working on Ash Color Mountains, in which the mountains are formed from thousands of Salarymen white-collar workers piled high on top of one another. That painting was completed before the devastating earthquake and tsunami of March 11, 2011, but looking at it now it seems to me it evokes thoughts of that event. Have you undergone any changes as an artist since that quake?
"I've got two new pictures currently in the pipeline. One of them is Jumble of 100 Flowers, which we talked about before. The other is a work called Electric Poles, Crows, and Others. The latter is the kind of work that brings to mind an earthquake or some other disaster, but I first had the idea for it more than 20 years ago. Just as I was getting started on it in preparation for this exhibition, the earthquake struck, and the things it expresses were too close to the trauma experienced by the victims of the quake and the families that lost loved ones, so I decided to set it aside and not paint it just yet. It had to be put on hold for a while. I came to think about it again after the reports died down a bit, and began painting it then. This is one work that some might say occurred to me as a result of the disaster, and I don't mind if people hold that misconception. Everyone should have been aware that a major disaster could strike at any time. There is another new work, and it's on the theme of nuclear power generation. I still can't say too much about it in detail, but I haven't made it so much a work about nuclear power itself as it is about the disintegration and demise of the Japanese spirit that I noticed myself with some surprise after the nuclear accident. I don't want to ignore the disaster or nuclear power, if I can avoid it, but I also don't want to push my own personal views in my art works. So I think this is probably the way I'll respond for now to the earthquake in my work."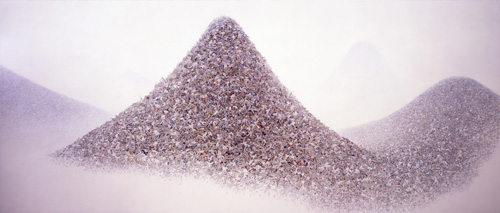 Ash Color Mountains
2009-11
Acrylic on canvas
300 x 700cm
Taguchi Art Collection
Cooperation: Watanabe Atsushi
Courtesy: Mizuma Art Gallery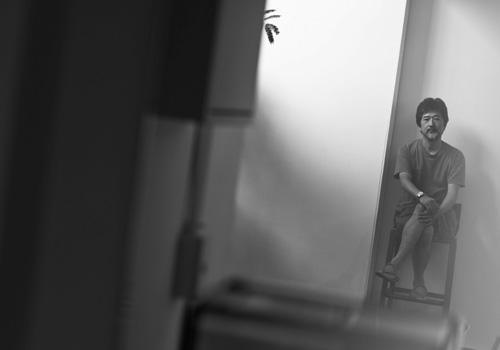 Aida Makoto
Photos: Konami Jiro
Text & Edit : Hattori Madoka
 
■Relevant information
・"Aida Makoto in a Minute"
1. "Because we view them in secret, erotic publications take on an extra level of interest"
2. "About another 10 years painting crazy big canvases"
3. "Disintegration and demise of the Japanese spirit"
・"Aida Makoto: Monument for Nothing"
Saturday, November 17, 2012 - Sunday, March 31, 2013