"Roppongi Crossing" is a series designed to offer a comprehensive survey of the Japanese contemporary art scene now, by bringing together art that speaks of its times. Marking the 10th anniversary of the Mori Art Museum, "Roppongi Crossing 2013," titled "OUT OF DOUBT," opens on Saturday, September 21. We spoke with Mori Art Museum Chief Curator Kataoka Mami and the two young guest curators invited from overseas - for the first time in the series - to join her in co-organizing the exhibition about the concepts and spirit giving shape to the project.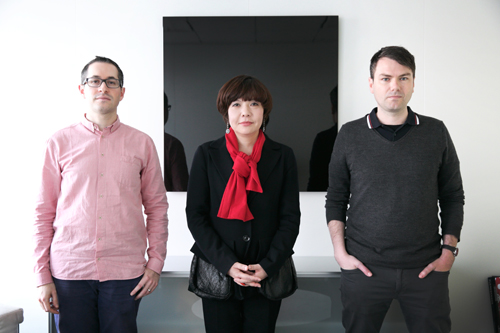 From left: Gabriel Ritter, Kataoka Mami, Reuben Keehan.
-- First, could each of you please introduce yourself?
Gabriel Ritter (hereinafter Gabriel): My name is Gabriel Ritter. I'm the Nancy and Tim Hanley Assistant Curator of Contemporary Art at Dallas Museum of Art. My training is in modern and contemporary Asian and Japanese art, but I'm basically well-versed or trained in the Western art historical cannon, too. There is not really necessarily a specialization except my academic research really focuses on Japan.
Kataoka Mami (hereinafter Kataoka): I'm Chief Curator at the Mori Art Museum. I've been at the Mori Art Museum since it opened in 2003, so this is my 10th year working here. During that time I've focused in particular on contemporary art practice mainly in Japan and the rest of Asia.
Reuben Keehan (hereinafter Reuben): My name is Reuben Keehan. I am a curator at the Queensland Art Gallery | Gallery of Modern Art in Brisbane, Australia. My specialty at the museum is Contemporary Asian Art. It's been a long-term research interest of mine. I also have a very long personal relationship with Japan. I'm particularly interested in Japanese art.
-- What role does each of you have?
Kataoka: With Gabriel Ritter being based in the U.S. and Reuben Keehan in Australia, each of them has a different geographical focus, and among the reasons why we called on them was that one of the aims of this year's "Roppongi Crossing" is to actively introduce artists based overseas.
It's our hope that they introduce artists with some kind of connection to Japan from the region in which each of them is based.
As well, one of the things we want to do this year is consider Japanese art today in a number of different contexts, and so with Gabriel's interest in the "nonsense" tradition and Reuben's extensive research in the area of Asian contemporary art, we thought we could present Japanese art and contemporaneous art in a geographical context, meaning in the context of Asia.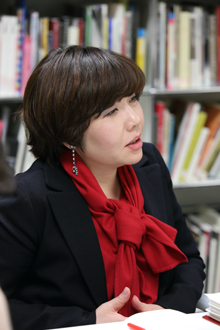 Kataoka Mami (Chief Curator, Mori Art Museum)
Gabriel: I don't know if each of us had kind of predetermined role, but definitely the three of us brought different set of interest and different set of kind of questions to the table. Obviously, Reuben has quite a bit of experience with what's going on in Australia. I would hope I'll bring to the table what's going on in the United States, but I think we all share a deep interest in what's going on here in Japan and that kind of - but from different places, we each have very different tastes, but I think that brings a kind of interesting mix to an exhibition like this.
Reuben: I think one of the approaches that we wanted to make sure that we took was a very collaborative approach, so that we work together and produce the exhibition rather than produce 3 separate exhibitions. The process of conversation, discussions, and of conducting research together has been very important to that. I hope that it produces a show that it doesn't really reflect the dominance of any one of us and actually is a true collaborative product.
-- Had you known each other before?
Kataoka: This is the first time the three of us have worked together.
I had already met Gabriel in Los Angeles through artist Tanaka Koki, and before that I was aware that he had written an essay for a monograph on Aida Makoto and organized exhibitions of work by the likes of Aida and Chim↑Pom and so on. In the U.S., there are a number of academic researchers in the area of post-War Japanese art, but at the moment there are only a few who are well informed about current Japanese art trends and artists. So I was keeping an eye on him, thinking, "Here's someone from the generation born in the 1980s who has a good knowledge of the contemporary Japanese art scene."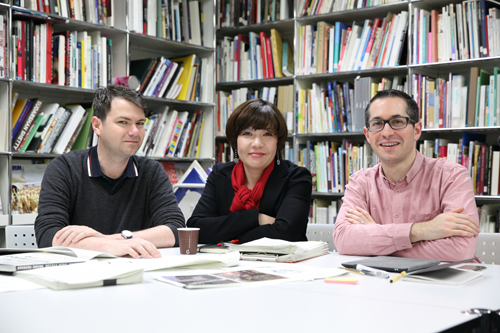 From left: Reuben Keehan, Kataoka Mami, Gabriel Ritter
Reuben studied in Japan and we've met in various places including South Korea and Singapore, so while we had never worked together I already knew him. Also, the Queensland Art Gallery | Gallery of Modern Art, where he works, has for a long time directed its gaze widely across the Asia-Pacific region, and I thought it would be interesting to incorporate a view of Japan from this position. What's more, as part of his job he has been actively presenting Japanese artists. To a certain extent it was because I wanted to work alongside people from overseas with well-informed opinions of Japanese art that I chose these two.
I first contacted them around a year ago. At first I met and talked with them separately and when either Gabriel or Reuben came to Japan the three of us Skyped. After that we kept in touch via email and Skype. When they visited Japan we did research into and visited the studios of artists each of us was interested in, and in so doing we gradually built up shared experiences.
-- What can you tell us about the exhibition title, "OUT OF DOUBT"?
Reuben: The title came from a lot of discussion about the project. We're formulating a title. You have to come up with something that describes the project in some way and which communicates that very quickly to the audience. In a way, the title is always going to frame the experience of the audience. It will give them something to hang on to while they think about it.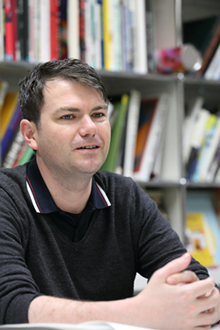 Reuben Keehan (Curator, Queensland Art Gallery | Gallery of Modern Art in Brisbane, Australia)
Out of doubt is quite a complicated English expression. It sounds very simple, but it can mean different things relating to the context. It can mean something that's produced by doubt. In that sense, a doubt is a very positive thing. It means to get out of doubt, to leave a kind of doubtful context where doubt might be something of a negative thing can mean to run out of doubt, doubt to not want to be skeptical anymore, to be exhausted. All of these things were sort of produced by the mixture I think of art as we had in the show, but also by the number of the issues and a number of the - what we could call the social sensibility of Japan at this point in time especially after the events of March 11, 2011. The Great East Japan Earthquake and very kind of long reconstruction and recovery period. That's followed. That's produced a lot of doubt I think among Japanese society. But from our experience, that doubt has also been very productive. A number of fantastic initiatives have come out of that. This spirit that we saw in sort of response to Tohoku and to the number of other issues within Japan at the moment with something that we found echoed in the projects that we're working with.
Gabriel: I think we kind of were working around certain issues, but it wasn't really until we took a trip up to the Tohoku region and Ishinomaki and met with people there and saw some of this first-hand, having seen it on TV. We don't really get a sense of the gravity of the situation until you sort of see it for yourself. This, for me personally, was left a really strong impact, but also kind of clarified some of the thinking of how to tie together some of these dispirit strands of art practices and art history that we've been trying to articulate.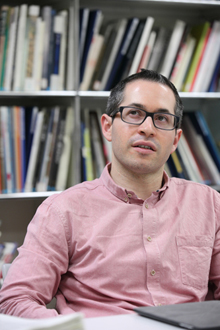 Gabriel Ritter (Nancy and Tim Hanley Assistant Curator of Contemporary Art, Dallas Museum of Art)
Kataoka: Even before the Tohoku disaster, I sensed a great heightening of self-awareness and consciousness in Japanese society with regard to the way society was heading. Doubts and misgivings concerning Japan's position in an increasingly globalized world, including Japan's weakened economic and political status, were also growing before the disaster, and the question of the sort of attitude we should take with respect to these matters was one I, too, was interested in.
On top of this came the problems that occurred in the wake of the earthquake and tsunami and the unresolved problem of the Fukushima nuclear plant, and when I considered how best to go about addressing these in an art context, I decided we needed to gradually unravel some of the things that haven't been properly discussed in Japanese society over the last few decades, such as what lay behind Japan's post-war economic growth and the state of our relationship with the various countries and regions of Asia.
I also think we need to revisit the views of nature passed down in Japan since ancient times. In a sense these are part of the collective consciousness of the Japanese people, and I think it would be great if we could bring to light through the exhibition the complex circumstances of Japanese society in which multiple viewpoints and issues are woven together in such a way that they cannot be related as a single narrative.
If I were to interpret the word "doubt" positively, I think it would mean divulging the truth or essence of things, or in other words those aspects of things that cannot be seen. I think revealing the truth of things is one of the important tasks of contemporary art, and that this can be said without restriction to a particular place and time, such as Japan today.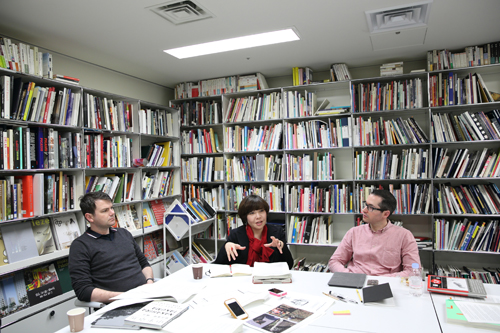 A scene from this 2-hour trialogue
-- What kinds of artists and around how many will be presented at the exhibition?
Kataoka: We intend to invite around 30 artists. Most will be people born in the 1970s or '80s, although some will be older artists who, from the point of view of artists of those generations, are still regarded as extremely stimulating. Most will be based in Japan, although we will actively include Japanese artists or artists of Japanese descent working overseas in order to add complexity and depth to the notion of Japan.
-- Can you each tell us what you regard as the greatest challenge you face in organizing this exhibition?
Gabriel: Challenge, I mean I think for me probably the biggest challenge is trying to work against a lot of these ideas that are kind of set in people's minds about what Japan is and this has really been an interesting opportunity to think beyond borders, beyond generations. Also thinking of the work that's happening now in Japan in the context of post 3.11 has been on the one hand incredibly challenging, but I think the most rewarding part of this project and I'm really looking forward to kind of having time to work through these ideas in the text. I don't know. It's not necessarily just a challenge, but it's really a unique opportunity to think about ideas that I've been thinking about, but there is not a platform to really voice these concerns. Being in Dallas, it doesn't carry necessarily as much weight or some of these issues. It really feels like a world away, but being here working on the project, working with the artists, working with my fellow curators, you really get a sense that there is important work to be done and we're kind of starting that.
Reuben: For me, it's constructing an exhibition that is coherent, so it feels like a very fluid experience for the viewers as they kind of move around the space, but also open-ended. That's always a challenge in exhibition making. When I say open-ended, I mean that it can be read in a number of ways and I think we're going to have a lot of fun actually contextualizing people's work, so describing through audiences what it is that these artists do and how to help them understand the background perhaps the way the two artists practices, but to do that in a way that the audience can also reflect on how the experience of the exhibition might relate to their own experiences in their daily lives.
Kataoka: This is the second time I've curated "Roppongi Crossing," so for me the greatest challenge is giving audiences a sense of what has changed in the 10 years since the first exhibition in 2004. In those 10 years both society and the art scene has changed, and my own experience has also changed, so it's about how I give audiences a sense of that.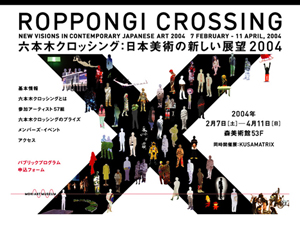 Mori Art Museum "Roppongi Crossing: New Visions in Contemporary Japanese Art 2004"
February 7 - April 11, 2004
(http://www.mori.art.museum/contents/roppongix/index.html)
For example, the reason we chose to focus for this exhibition mainly on artists in their thirties born in the 1970s and 80s is that in 2004 when I last curated "Roppongi Crossing" we focused mainly on artists born in the 1960s who were also in their thirties at the time. From their late thirties to forties is the period when most artists establish their own style and when their direction becomes clearer. And so I'm really interested in what this generation of artists is thinking.
As well, I get the sense that this generation is definitely more conscious of society and more self-aware than previous generations, and so I want to contextualize this. As Gabriel said, we want to present Japanese contemporary art that's an alternative to what's happening overseas, and in doing so I think it's important to explain why Japanese art exists in its current form by contextualizing it.
Also, we wanted to let the exhibition have a range of different viewpoints by venturing to incorporate viewpoints from outside. We wanted to encourage people to consider the approach that while something may be a Japanese problem, it may also have something in common with problems in other regions such as Africa, Latin America, or Asia. At the moment other regions in Asia are following a modernization process whose timing is different from Japan, but regardless of which area we focus on, including what is being looked at and what can be shared, various issues come into view as a result. And so I think it would be good if art museums could become platforms that encourage as much as possible in Japan discussions around what people are thinking and how, discussions that transcend time and regions.
When an art museum that has existed for 10 years thinks about the next 10 years, it has to ask itself some truly fundamental questions, such as what its own culture is, what an art museum is, and what art is. So in one sense the title "OUT OF DOUBT" also means viewing in a fresh light or re-examining the position of art and the position of art museums. This is a huge challenge, but this is what makes it so exciting.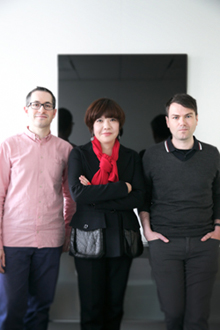 Stay tuned for what these three have in the works
-- Finally, are there any plans to take this "Roppongi Crossing" exhibition overseas?
Kataoka: Well, at the moment there are no plans to tour overseas, although there are always requests from people wanting to see "Roppongi Crossing" outside of Japan, so we have to work hard to find an art museum interested in hosting it!
Photo: Mikuriya Shinichiro
 
■Relevant information
・Mori Art Museum 10th Anniversary Exhibition
Roppongi Crossing 2013: OUT OF DOUBT
September 21, 2013 - January 13, 2014
・Roppongi Crossing: New Visions in Contemporary Japanese Art 2004
February 7 - April 11, 2004
・Roppongi Crossing 2007: Future Beats in Japanese Contemporary Art
October 13, 2007 - January 14, 2008
・Roppongi Crossing 2010: Can There Be Art?
March 20 - July 4, 2010