In this blog series, we introduce Lee Mingwei's art works from the exhibition "Lee Mingwei and His Relations: The Art of Participation" now on show at the Mori Art Museum. From this part two, we have selected three projects from the Section 2.
Section 2: Walking, Eating, and Sleeping-Rethinking Everyday Action
Here we will take a fresh look at ordinary everyday actions such as "walking," "eating," and "sleeping" based on the Buddhist notion that everything is continually changing and the ensuing emphasis on the "here and now."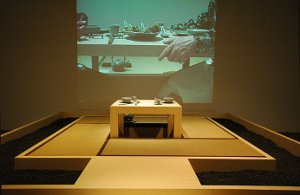 The Dining Project
1997
Installation view: Museum of Contemporary Art Taipei, 2007
Collection: JUT Museum Pre-Opening Office, Taipei
Photo: Lee Studio
The artist or a host will invite a stranger to a private, one-on-one dinner, with a relationship forming as the two engage in dialogue. Visitors to the exhibition can share the experience by viewing excerpts from a video recording of the dinner.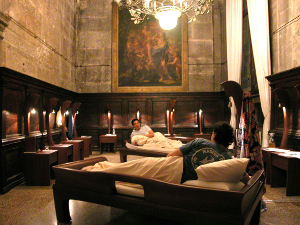 The Sleeping Project
2000
Installation view: The 50th Venice Biennale, 2003
Photo: Gary Lee
The artist or a host will spend a night alone with a stranger in the museum gallery. Interactions between the two in such an intimate time and place may help us understand notions of relationality and trust.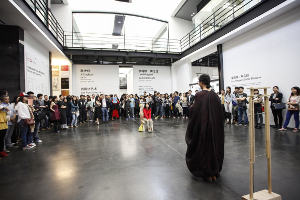 Sonic Blossom
2013
Performance view: Ullens Center for Contemporary Art (UCCA), Beijing, 2014
Photo: Mao Zhenyu
The idea for Sonic Blossom came to the artist when caring for his sick mother. Inspired by the fact they both found solace in listening to Franz Schubert's Lieder, the project takes the form of "gift-giving" of the Lieder to a chosen member of the audience.
 
■Relevant information
・Introducing Artworks and Sections from "Lee Mingwei and His Relations"
(1)Thinking Relations, Connections and In-between Space
(2)Walking, Eating, and Sleeping - Rethinking Everyday Action
(3)Thinking Connections of History, Culture, Society through Personal Memories
(4)Contextualize Lee's Body of Works: Hakuin / Imakita Kōsen / D.T. Suzuki
(5)Contextualize Lee's Body of Works: Hisamatsu Shin'ichi / Yves Klein / John Cage
(6)Contextualize Lee's Body of Works: Lee Ufan / Allan Kaprow / Rirkrit Tiravanija
(7)Contextualize Lee's Body of Works: Ozawa Tsuyoshi / Tanaka Koki
・"Lee Mingwei and His Relations: The Art of Participation: Seeing, Conversing, Gift-giving, Writing, Dining and Getting Connected to the World"
Saturday, September 20, 2014 - Sunday, January 4, 2015
・"MAM Project 022: Jacob Kirkegaard"
Saturday, September 20, 2014 - Sunday, January 4, 2015