Large symbolic sculpture Roots is now installed at Oval Plaza in Toranomon Hills as public art, supervised by Mori Art Museum!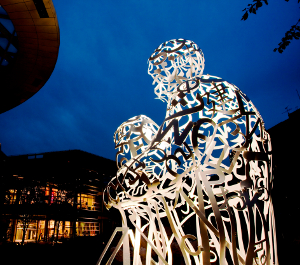 Jaume Plensa
Roots
2014
Stainless steel and paint
5.5m (W) × 6.5m (D) × 10m (H)
10 meter-high large sculpture, entitled Roots, by Spanish artist Jaume Plensa was unveiled as public art in Toranomon Hills, under the supervision of Mori Art Museum.
The sculpture expresses the universal nature of global culture and the bonds that tie humanity together, and also the vision of new culture and lifestyles, taking root around Toranomon Hills, to give life to new ideas and innovation for the revitalization of the Toranomon area.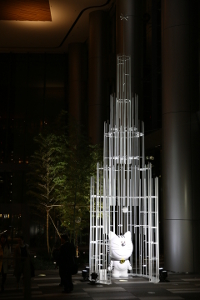 Toranomon White Forest
And for its first Christmas season, Toranomon Hills is holding a campaign "TORANOMON HILLS WINTER 2014" until Sunday, February 15, 2015. Within the area, "Toranomon White Forest" designed by architect Tanijiri Makoto appears and its atrium space is of decorations in the image of fantastic snowy winter night. Also in restaurants and shops, you could enjoy Christmas dinner course menu, enabling you to experience a special moment, buy christmas cakes, gifts, official goods of Toranomon's promotional character "Toranomon," that is only available at the Toranomon Hills.
In addition to Roots, artworks by Uchiumi Satoshi, Zhan Wang, Sun K. Kwak, and Kamiya Toru and others are displayed all over. If you would like to enjoy both art and Christmas, come visit Toranomon Hills!
Toranomon Hills website:
http://toranomonhills.com/en/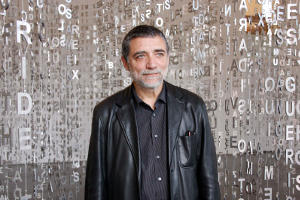 Photo: Laura Medina, Plensa Studio, 2013
Jaume Plensa Profile:
Jaume Plensa is a leading international artist from Spain who combines art with conceptual and philosophical messages in works that have been praised for their quality of form and depth of concept. Born in Barcelona in 1955, Plensa has received numerous acclamations, including the 2013 Velazquez Prize, an annual award presented by Spain's Ministry of Culture to recognize contributions to Spanish and Spanish-American culture in the field of plastic arts. His works include the stainless steel and glass creation Breathing, which was dedicated by Secretary-General of the United Nations Ban Ki-moon to honor journalists who have died while pursuing their profession.
Interview of Jaume Plensa and making movie of Roots available here.
 
■Relevant information
・"Lee Mingwei and His Relations: The Art of Participation: Seeing, Conversing, Gift-giving, Writing, Dining and Getting Connected to the World"
Saturday, September 20, 2014 - Sunday, January 4, 2015
・"MAM Project 022: Jacob Kirkegaard"
Saturday, September 20, 2014 - Sunday, January 4, 2015