For the 4th of the blog series that introduces the contents of "Lee Mingwei and His Relations: The Art of Participation," we'd like to introduce the other artists, religious leaders and thinkers presented in the exhibition, to better understand the historical and cultural contexts that form the backdrop of Lee Mingwei' s practice.
Hakuin (1685-1768)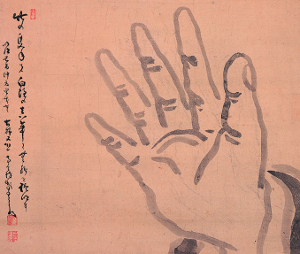 Sekishu (One Hand)
18th century
Hanging Scroll; ink on paper
42.5 × 50 cm
Collection: Hisamatsu Shinichi Memorial Museum, Gifu, Japan
A Zen priest who lived in the mid-Edo period. Known as the Chūkō no So, or father of restoration, of the Rinzai school, Hakuin reformed the school, which had gone into decline, into a new sect more suited to the times, devoting his entire life of 84 years to propagating Zen Buddhism among the common people. Hakuin left behind a large number of Zen paintings and calligraphy works using quotations from a wide variety of fields that were sometimes extremely difficult to understand. Works such as Sekishu, which at first glance appear humorous and witty and look so modern it is difficult to believe they were produced some 300 years ago, incorporate deeply involved messages.
Imakita Kōsen (1816-1892)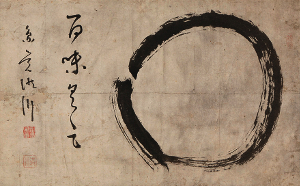 Enso- (Circle)
19th century
Hanging scroll; ink on paper
34.2 × 59.4 cm
Collection: Untyouan, Kanagawa, Japan
A Zen priest who lived in the late-Edo to early-Meiji periods. In the Meiji period, Kōsen devoted himself to evangelizing and propagating Zen at a time of great upheaval, which included the rise of a movement dedicated to the abolition of Buddhism. Countless famous figures of the Meiji period, including Yamaoka Tesshū, practiced Zen under the supervision of Kōsen when he was head abbot of Engakuji Temple, among them D.T. Suzuki, who as a 22-year-old practiced Zen with Imakita near the end of the latter' s life and was given the Buddhist name Daisetsu by Kōsen's successor, Shaku Sōen. This connection led to D.T. Suzuki traveling to the U.S. where he introduced Zen to the world through a series of lectures and publications in English, initiating a new era in the history of Zen. Ensō symbolizes Buddha-nature, creation and the universe, expressing the spirit of Zen in a single form.
D.T. Suzuki (1870-1966)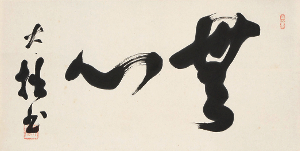 Mushin (No-Mind)
20th century
Hanging scroll; ink on paper
33.1 × 64.8 cm
Collection: Tokeiji, Kanagawa, Japan
A Buddhist scholar and philosopher of the Meiji, Taisho and Showa periods. In 1897, at the age of 27, D.T. Suzuki traveled to the U.S. where he was involved in publishing Buddhism-related books in English. Twelve years later he returned to Japan where he taught at university while he continued to publish countless books. In addition to penning some 30 books in English, Suzuki returned to the U.S. shortly before his 80th birthday and spent the next 9 years lecturing throughout Europe and North America as Zen continued to spread around the world. His lectures at Columbia University, where he taught from 1952, were attended by John Cage among others, and influenced artists in a wide variety of fields including art, music and literature.
 
■Relevant information
・Introducing Artworks and Sections from "Lee Mingwei and His Relations"
(1)Thinking Relations, Connections and In-between Space
(2)Walking, Eating, and Sleeping - Rethinking Everyday Actione
(3)Thinking Connections of History, Culture, Society through Personal Memories
(4)Contextualize Lee's Body of Works: Hakuin / Imakita Kōsen / D.T. Suzuki
(5)Contextualize Lee's Body of Works: Hisamatsu Shin'ichi / Yves Klein / John Cage
(6)Contextualize Lee's Body of Works: Lee Ufan / Allan Kaprow / Rirkrit Tiravanija
(7)Contextualize Lee's Body of Works: Ozawa Tsuyoshi / Tanaka Koki
・"Lee Mingwei and His Relations: The Art of Participation: Seeing, Conversing, Gift-giving, Writing, Dining and Getting Connected to the World"
Saturday, September 20, 2014 - Sunday, January 4, 2015
・"MAM Project 022: Jacob Kirkegaard"
Saturday, September 20, 2014 - Sunday, January 4, 2015