Tuesday, May 19, 2015 saw this year's first staging of MAMC Night, an event held exclusively for members of the Mori Art Museum membership program, MAMC.
The evening began with a gallery tour of the "Simple Forms" exhibition, conducted by Associate Curator Tsubaki Reiko.
Members were also treated to a sneak preview of new works that marked a change of display - on that very day - midway through the show.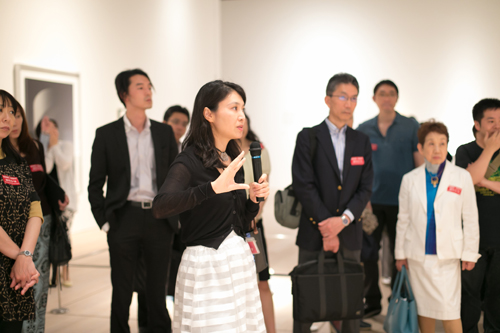 Tsubaki Reiko (Assistant Curator, Mori Art Museum) conducting the tour.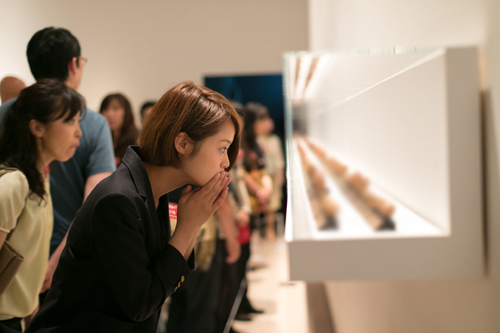 MAMC members fascinated by works on display.
Having recently seen works by two of the artists showing in "Simple Forms," Carsten Nicolai and Nishikawa Katsuhito, on the MAMC members-only Public Art Tour in April, members may have also enjoyed observing the similarities and differences in the artists' approaches here vs. there.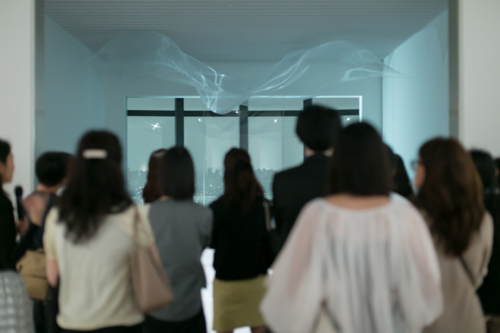 Ohmaki Shiniji Liminal Air Space-Time
Following the tour, members welcomed Setsuda Reiko from the Fondation d'entreprise Hermès who joined Tsubaki for a talk.
Tsubaki first presented slides from the exhibition "FORMES SIMPLES" staged at the Centre Pompidou-Metz, and described the differences between the Pompidou and Mori exhibitions. While "Simple Forms" is a touring exhibition, it was not a matter of merely bringing the very same works to Japan, but rather restructuring the exhibition and adding "simple forms" unique to Japan.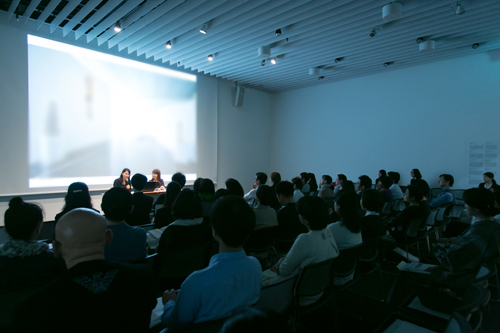 A scene from the talk given by Setsuda Reiko (Fondation d'entreprise Hermès) and Tsubaki Reiko (Mori Art Museum).
Setsuda then spoke about the Fondation d'entreprise Hermès' public interest initiatives. The Foundation does not have a collection, nor does it simply display artworks, but rather engages in activities in which it works together with artists to create.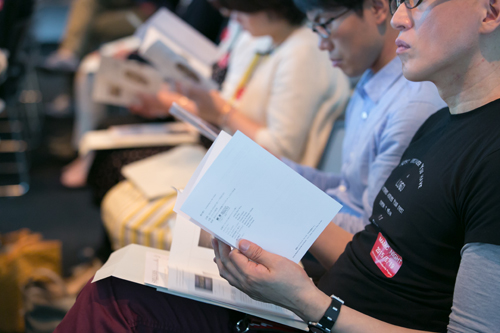 Attendees received materials concerning activities of Fondation d'entreprise Hermès and its "Listening to the Lines" exhibition pamphlet.
Finally, she introduced the "Listening to the Lines" exhibition currently on view at Ginza Maison Hermès Le Forum, mixing in some behind-the-scenes episodes involving the artists.
More than half of the MAMC members said they had already been over to Ginza Maison Hermès Le Forum, but for those who have not, do let this exhibition - being held in concert with "Simple Forms" - inspire you to go.
In the planning for our next outing is an "Echigo-Tsumari Art Field" tour. Details will be sent in the members-only email newsletter, MAMC Express. Stay tuned!
Text: Imamura Akiko (Marketing Group, Mori Art Museum)
Photo: Mikuriya Shinichiro
 
■Relevant information
・Mori Art Museum
Simple Forms: Contemplating Beauty
MAM Collection 001: Two Asian Maps - Ozawa Tsuyoshi + Shitamichi Motoyuki
MAM Screen 001: Early Video Works by Bill Viola
MAM Research 001: Great Crescent, Art and Agitation in the 1960s - Japan, South Korea, Taiwan
April 25, 2015 - July 5, 2015
・ An outing to five Tokyo public art spots!
MAMC Members-only Event
Public Art Tour: Photo Report
・ MAMC members-only event
"Yokohama Triennale 2014 Special Tour" Photo Report