The sixth in this series of blogs on the artists and works featured in the Mori Art Museum's "Roppongi Crossing 2016" exhibition looks at the practice of writer and artist Kobayashi Erika.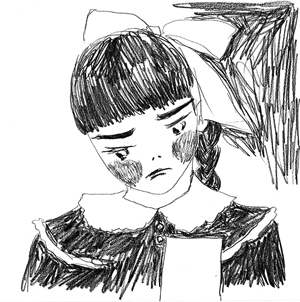 Her Portrait
2015
Pencil on cotton paper
21.6 × 21.6 cm
Kobayashi Erika, who writes and creates art on the theme of invisible things like time, memory and radiation, was nominated for the Mishima Yukio Prize and the Akutagawa Prize in 2014 for her novel Madame Curie to choshoku wo (Breakfast with Madame Curie).
In the installation Sunrise (2016), various images including those of the atomic bombings of Hiroshima and Nagasaki, of the Trinity nuclear test conducted in the US prior to these, of the song "Sunrise Serenade" that was playing on the radio at the time of the test, and of Kobayashi's mother, who was born two years after the end of the war, intertwine with one another, prompting associations in the minds of viewers. Phosphorescent sheets used for writing in the dark convert the energy of absorbed light into visible light rays. The nature of this material itself could be said to emit an invisible energy.
As a result of Kobayashi's approach of shining light on history from her position of living in the present as if going back in time, stories that have been overlooked come to the fore.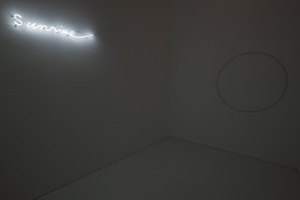 Installation view: "Roppongi Crossing 2016: My Body, Your Voice," Mori Art Museum, 2016
Photo: Nagare Satoshi
 
■Relevant Information
・Mori Art Museum
"Roppongi Crossing 2016: My Body, Your Voice"
Period: from Saturday, March 26 - Sunday, July 10, 2016.
・"Roppongi Crossing 2016": Artists and Works
(1) Mohri Yuko
(2) Katayama Mari
(3) Ishikawa Ryuichi
(4) Goto Yasuka
(5) Shimura Nobuhiro
(6) Kobayashi Erika
(7) Jun Yang
(8) Hasegawa Ai