Section 2
From Space to Environment – The Foster + Partners Design Process
Here we introduce a choice selection of large-scale projects by Foster + Partners that illustrates its use of state-of-the-art design and technology in addressing issues that transcend individual countries, such as ecology, sustainability, history, tradition, region and state. Through investigative to completed models, videos, photographs and sketches, we give a sense of the design process as well as the dynamism of the creation of the architecture.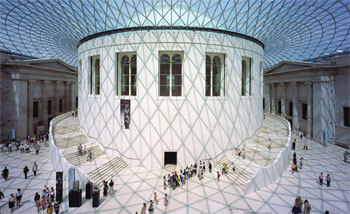 Queen Elizabeth II Great Court at the British Museum
2000 London, UK
The central courtyard of the British Museum was redeveloped into a sunlit atrium by covering the top with a glass roof while retaining the reading room that was built in 1857 in the center. The Great Court acts as a massive entrance space leading visitors to the various galleries at the museum. Each of the 3,312 glass window panels that make up the roof is an unique shape.