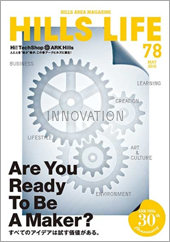 "HILLS LIFE"
The 78th issue of the "HILLS LIFE," Hills' area magazine, features "Roppongi Crossing 2016."
Exhibition participating artists, Kobayashi Erika and Miyagi Futoshi wonder around the exhibition.
Read "HILLS LIFE" online (in Japanese Language Only): here

Related Exhibition "MAM Screen 003"
"MAM Screen 003: Crossing Visions - Japanese Landscapes Seen from Outside"
"MAM Screen 003," which will run concurrently, features video works selected by Araki Natsumi, Kim Sunjung, Ozawa Keisuke and Wu Dar-Kuen , the four co-curators of the "Roppongi Crossing 2016."
The exhibition attempts to examine Japan from a diversity of perspectives, focusing on landscapes of Japan as seen by overseas artists.
Website here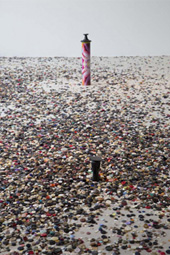 Nomura Kazuhiro's Altar of Laughter
Donate Your Buttons to an Artistic Cause!
* We have finished accepting the donations. Thank you for your interest.
We are looking for people who are willing to provide buttons free of charge for Nomura Kazuhiro's installation Altar of Laughter to be shown at "Roppongi Crossing 2016" exhibition. Perhaps you have buttons on old clothes you no longer wear or buttons lying around somewhere at home... buttons of any shape, size or color are welcome.
Nomura Kazuhiro: Altar of Laughter
Altar of Laughter is a kind of "land on a target" game in which old used buttons of various shapes and colors are thrown so as to land on small objects. The more the buttons become scattered around the floor, the more the floor changes in appearance. The challenge itself is fun but it's also fun to see how the installation transforms.
Mailing Address
Altar of Laughter staff
Curatorial Group, Mori Art Museum
50F, Roppongi Hills Mori Tower
6-10-1 Roppongi, Minato-ku, Tokyo 106-6150
Delivery / Bringing in
Where to: MAM Information "Button Collection Box"
(3F, Roppongi Hills Mori Tower, 6-10-1 Roppongi, Minato-ku, Tokyo)
Hours: 10:00-22:00 (Tue: 10:00-17:00)
Application Deadline
Sunday, March 6, 2016
Please Note the Following:
・ Postage costs are the responsibility of the provider.
・ Your name will not appear on the buttons you submit.
・ Receipts for buttons will not be issued.
・ Buttons will not be returned after the exhibition.
Inquiries
Ms. Yoshida, Ms. Yamana
Curatorial Group, Mori Art Museum, Tokyo
Tel: +81-(0)3-6406-6136 (10:00-18:30, weekdays only)
Fax: +81-(0)3-6406-9351
E-mail: rx2016@mori.art.museum
Notice Regarding Photography in the Galleries
At the exhibition "Roppongi Crossing 2016: My Body, Your Voice," you can photograph the artworks under the following conditions.
When taking permitted photographs:
Do NOT touch the works of art.
Do NOT interfere with other visitors' enjoyment of the museum.
Do NOT use flash lighting.
Do NOT use tripods and selfie sticks.
Do NOT FILM the art works.
When using photographs taken of the exhibition:
Photographs may be used for non-commercial purposes only. Photographs may NOT be used for commercial purposes.
Photographs may NOT be altered in any ways.
The conditions above are licensed under the Creative Commons License. When uploading photographs for blogs or any other photo-sharing services, please make sure to display the below marks and phrases with the photograph.
Examples:


Artist's name and work title: Miyagi Futoshi Flower Names
This photograph is licensed under "Creative Commons Attribution-Noncommercial-NoDerivative Works 2.1 Japan."
* For details about the Creative Commons License and marks, please see the Creative Commons Japan website: http://creativecommons.jp
* If photographs that include other museum visitors are made public, they may infringe on that person' s right of portrait.