Mori Art Museum organized an internship program last year in partnership with the Hong Kong Arts Development Council, a statutory body of the Hong Kong Government, and Ms. Vivian Poon, an assistant curator at Hong Kong Museum of Art, has been undertaking a placement in the curatorial department since last November. The program is aimed at early- to mid-career curators and managers, and Vivian has been involved in the research projects for the forthcoming exhibition, "All You Need Is LOVE," which is scheduled to open in April 2013, and is expected to assist in building up professional networks between Japan and Hong Kong by visiting art museums and cultural institutions in Tokyo and other cities in Japan. The program also provides the Mori Art Museum staff with a good opportunity to learn more about the current art/cultural scenes in Hong Kong, which is rapidly growing as an important center of contemporary art.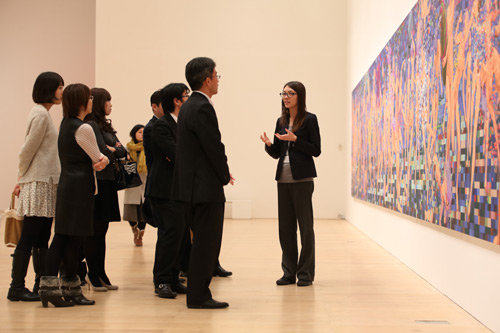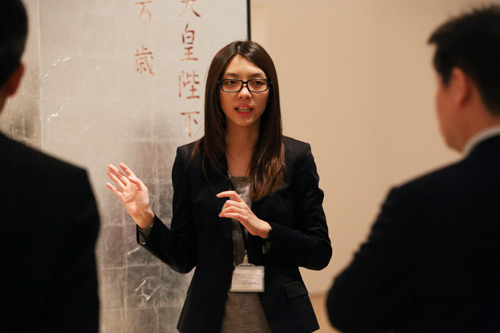 Photo: Mikuriya Shiniricho
Vivian also gives gallery tours in Chinese and English for the current exhibition, "Aida Makoto: Monument for Nothing." She has already conducted two tours in two languages, in which she had conversations with the participants and answered questions from them on various themes - such as politics, history, eroticism, and violence - all of which are explored in Aida's works.
Although Vivian studied his works prior to her arrival to Tokyo, she says that she discovered more after seeing the actual works in the exhibition. Talking to the artist in person has also helped her in understanding the artist as a person, which, to her, was indispensable in fully comprehending the artist's creativity and points of view.
Vivian will be giving 4 more gallery tours in January and February. Speakers of English and Chinese as well as those who are learning the languages are welcome to join (No advance booking is necessary). We look forward to seeing you in the gallery.
Text by Tsuchiya Takahide (Manager, International Programs, Curatorial Department, Mori Art Museum)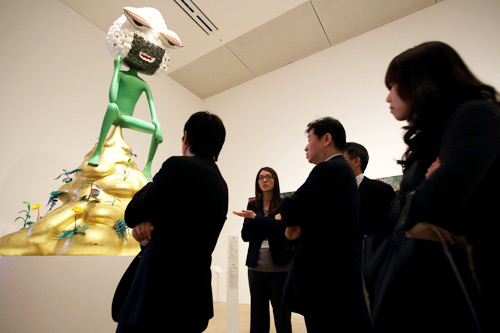 Photo: Mikuriya Shiniricho
 
■Relevant information
・"Aida Makoto: Monument for Nothing"
Saturday, November 17, 2012 - Sunday, March 31, 2013
・"Aida Makoto in a Minute"
1. "Because we view them in secret, erotic publications take on an extra level of interest"
2. "About another 10 years painting crazy big canvases"
3. "Disintegration and demise of the Japanese spirit"