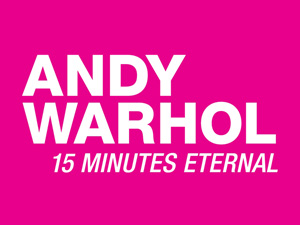 The second in the series is about exhibition sections 3 & 4. Warhol's signature masterpieces in the 1960s on display in the section 3. And, a near full-scale re-creation of the "Silver Factory" is also on display, where visitors can experience the atmosphere of Warhol's day-to-day activities!
Section 3:
The 1960s: Transformation into an "Artist"
In the 1960s Warhol moved away from work as a commercial designer and developed his characteristic style of representation in art. After devising a technique to transfer photograph images to canvas with silkscreen, he went on to produce works in large quantities based on clippings from mass media such as newspaper ads. In this period, Warhol produced his iconic Campbell's Soup and Coca-Cola paintings as well as other images of mass consumer society, his Celebrity Portraits series with portraits of Marilyn Monroe, Elizabeth Taylor, Elvis Presley, and others, and his Death and Disaster series dealing with such themes as suicides and accidents.
Section 4:
Silver Factory
A number of assistants worked in Warhol's New York studio, called "The Factory," turning out works in assemblyline fashion suggestive of the mass production process in a factory. From 1963 to 1968, the interior of the 231E.47th Street studio, covered in aluminum foil, came to be called the "Silver Factory." Billy Name, Warhol's photographer who originated the decoration and photographed the space, has cooperated to recreate the effect near to true scale for the exhibition.
 
See more information
http://www.mori.art.museum/english/contents/andy_warhol/highlight/index.html
 
■Relevant information
・Mori Art Museum 10th Anniversary Exhibition "Andy Warhol: 15 Minutes Eternal"
Exhibition Period: Saturday, February 1 - Tuesday and Holiday, May 6, 2014
"Andy Warhol: 15 Minutes Eternal"
・Exhibition Sections (1)
・Exhibition Sections (2)
・Exhibition Sections (3)
・Exhibition Sections (4)