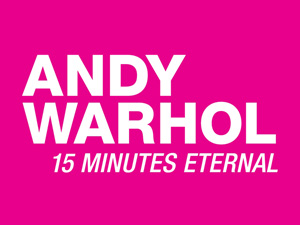 Enjoy the last in the series, introducing exhibition sections 7 & 8. Experimental films and videos are screened in a dynamic presentation, using 17 screens. Also, Warhol collected his personal items that met his eye in his daily life in cardboard boxes called "Time Capsules." What are "Time Capsules" like?
Section 7:
Experimental Film and Video
Warhol acquired a 16mm film camera in 1963 and until the late 1960s made many experimental films. In 1965, he was reported to have declared he would no longer paint and his intention to immerse himself in film production. His series of 3-minute Screen Test films shot at "The Factory" and his 8-hour opus Empire, featuring a stationary camera filming the Empire State Building from evening to late night, are representative of his film productions.
Section 8:
Time Capsules
From around 1974, Warhol started his Time Capsules, saving in cardboard boxes all kinds of materials that met his eye in his daily life. Documents, letters, newspaper and magazine clippings, invitations, personal memos, or things he got from other people, now stand as an archive of Warhol' s daily life and of the life of the times. Around his 1974 visit to Japan for his large solo exhibitions, he started to gather printed materials, ukiyo-e reproductions, and tabi (Japanese socks) for his Time Capsules.
 
See more information
http://www.mori.art.museum/english/contents/andy_warhol/highlight/index.html
 
■Relevant information
・Mori Art Museum 10th Anniversary Exhibition "Andy Warhol: 15 Minutes Eternal"
Exhibition Period: Saturday, February 1 - Tuesday and Holiday, May 6, 2014
"Andy Warhol: 15 Minutes Eternal"
・Exhibition Sections (1)
・Exhibition Sections (2)
・Exhibition Sections (3)
・Exhibition Sections (4)