In order for us to think again about "connections" and "relationality" as well as to understand the historical and cultural contexts that form the backdrop of Lee Mingwei's practice, works and quotations by 11 artists, religious leaders and thinkers are presented. Hisamatsu Shin'ichi, Yves Klein and John Cage are to be introduced in the fifth of the blog series.
Hisamatsu Shin'ichi (1889-1980)


Without ears, without hands, and without tongue, hear the sound of Hakuin's 'One Hand'
20th century
Tanzaku card
36.3 × 6cm
Collection: Hisamatsu Shinichi Memorial Museum,Gifu, Japan
A philosopher and Buddhist scholar. Hisamatsu studied under Nishida Kitarō at Kyoto Imperial University and was later influenced by D.T. Suzuki's ideas on Zen Buddhism and philosophy. He established the Zen concept of the "formless self " and published numerous books including Oriental Nothingness, The Spirit of the Tea Ceremony and Zen and the Fine Arts, devoting his entire life of 91 years to research and Zen practice as both a Buddhist philosopher and a Zen seeker after truth. He was also an accomplished tea ceremony master and calligrapher. His calligraphy inspired by Hakuin's Sekishu, which he owned, is included in the exhibition.
Yves Klein (1928-1962)
A French artist who produced a series of conceptual artworks and performances from the second half of the 1950s through the 1960s using as his principal material "air," one of the four elements of life that make up the universe. These works, which encourage viewers to think about their perception of the imperceptible realm and immateriality and about the values discovered as a result of this, call to mind the intangible values that underlie Lee Mingwei's art practice.
John Cage (1912-1992)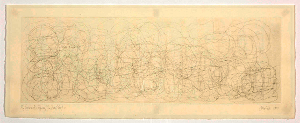 R²3(Where R=Ryoanji)
1983
Drypoint
18 × 54cm T.P., Ed. 25
Collection: Kawamura Tatsutoshi
©John Cage Trust
A composer who made one of the most important contributions to 20th century music and is credited with incorporating into music such elements as chance and indeterminacy. Among his influences were the Chinese divinations system known as I Ching and Eastern philosophies including Zen, which he learned about from D.T. Suzuki. The approach to music and art born out of this involved focusing awareness on all manner of sounds and actions existent in everyday living, an approach that has much in common with the values espoused by Lee Mingwei.
 
■Relevant information
・Introducing Artworks and Sections from "Lee Mingwei and His Relations"
(1)Thinking Relations, Connections and In-between Space
(2)Walking, Eating, and Sleeping - Rethinking Everyday Actione
(3)Thinking Connections of History, Culture, Society through Personal Memories
(4)Contextualize Lee's Body of Works: Hakuin / Imakita Kōsen / D.T. Suzuki
(5)Contextualize Lee's Body of Works: Hisamatsu Shin'ichi / Yves Klein / John Cage
(6)Contextualize Lee's Body of Works: Lee Ufan / Allan Kaprow / Rirkrit Tiravanija
(7)Contextualize Lee's Body of Works: Ozawa Tsuyoshi / Tanaka Koki
・"Lee Mingwei and His Relations: The Art of Participation: Seeing, Conversing, Gift-giving, Writing, Dining and Getting Connected to the World"
Saturday, September 20, 2014 - Sunday, January 4, 2015
・"MAM Project 022: Jacob Kirkegaard"
Saturday, September 20, 2014 - Sunday, January 4, 2015