To understand the historical and cultural contexts that form the backdrop of Lee Mingwei' s practice, works and quotations by 11 artists, religious leaders and thinkers are presented in this blog series. Ozawa Tsuyoshi, one of the pioneers in Japan of "participatory art," and Tanaka Koki, a conceptual artist active internationally are introduced for this final edition of the series.
Ozawa Tsuyoshi (1965-)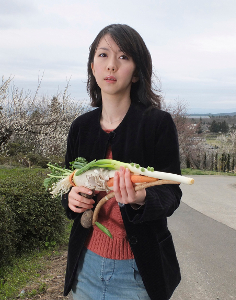 Vegetable Weapon: Imoni (Taro potato soup with pork) / Fukushima
2012
Type C print
36.5 × 28.6 cm
Courtesy: MISA SHIN GALLERY, Tokyo
One of the pioneers in Japan of "participatory art" (realized through the participation of audiences) including the concept of "Sodan Art" (literally meaning "Consultation Art" ) which he first proposed in 1991. Since then he has unveiled a series of pieces that shrewdly involve audiences or other artists in the creative process or at exhibition spaces. His "Vegetable Weapons" series is a project that attempts to transcend political and cultural differences through the use of "food" and has been conducted more than 50 times all over the world since 2001.
Tanaka Koki (1975-)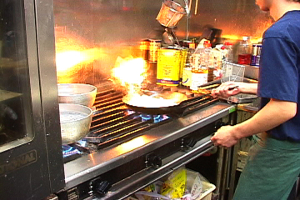 Each and Every
2003
DVD, color, sound
30 min. (loop)
Collection: Mori Art Museum, Tokyo
A conceptual artist based in Los Angeles and active internationally. As well as producing video and installation works, Tanaka is energetically involved in writing, lecturing and other language-based practices. His early works consisted of video loops made out of banal footage of everyday life, while in recent years he has presented video works and installations dealing with the complex relationships and states of mind that arise when multiple people become involved. The work included in this exhibition, Each and Every, could also be described as from a transitional stage between these two periods.
 
■Relevant information
・Introducing Artworks and Sections from "Lee Mingwei and His Relations"
(1)Thinking Relations, Connections and In-between Space
(2)Walking, Eating, and Sleeping - Rethinking Everyday Actione
(3)Thinking Connections of History, Culture, Society through Personal Memories
(4)Contextualize Lee's Body of Works: Hakuin / Imakita Kōsen / D.T. Suzuki
(5)Contextualize Lee's Body of Works: Hisamatsu Shin'ichi / Yves Klein / John Cage
(6)Contextualize Lee's Body of Works: Lee Ufan / Allan Kaprow / Rirkrit Tiravanija
(7)Contextualize Lee's Body of Works: Ozawa Tsuyoshi / Tanaka Koki
・"Lee Mingwei and His Relations: The Art of Participation: Seeing, Conversing, Gift-giving, Writing, Dining and Getting Connected to the World"
Saturday, September 20, 2014 - Sunday, January 4, 2015
・"MAM Project 022: Jacob Kirkegaard"
Saturday, September 20, 2014 - Sunday, January 4, 2015