The uniqueness of "Lee Mingwei and His Relations" is that by audience participation, a number of works will come to completion. For the sixth of the blog series, we present Lee Ufan, one of the founding members of the "Mono-ha," Allan Kaprow, known for "Happenings," and Rirkrit Tiravanija, known for his "relational art."
Lee Ufan (1936-)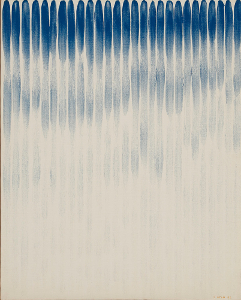 From Line
1976
Mineral pigment on canvas
100 × 80 cm
Collection: Tokyo Opera City Art Gallery
As one of the founding members of the "Mono-ha," a new sculptural movement that emerged in Japan in the 1960s, Lee made a major contribution to the movement's theory. An attitude of focusing less on physical objects themselves and more on the vibrations and invisible energy that emanate from and surround them is common to all his works from paintings to installations. In the early painting series "From Point" and "From Line," he explored the realm of infinity through a repetition of the transition from being to nothingness.
Allan Kaprow (1927-2006)
Known for his advocacy in the late 1950s of "Happenings," which were conducted by audiences based on spatial experiences or instructions. "Activities," one of the types of "Happenings," involved conducting consciously, like a ritual, the kinds of everyday activities people usually engage in unconsciously, often in private environment without an audience. The one-to-one intimacy seen in Kaprow's "Activities" is one of the keys to understanding Lee Mingwei's art practice.
Rirkrit Tiravanija (1961-)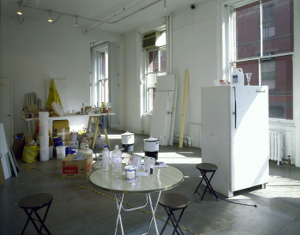 Untitled 1992 (free)
1992
Mixed media
Dimensions variable
Courtesy: GALLERY SIDE 2, Tokyo
In the 1990s when the art scene expanded globally, Tiravanija attracted international attention as an exponent of the new tendency known as "relational art," which reconsidered art from the standpoints of mutual relations between people and their social context. In the project that saw him treating visitors to galleries and art museums to Thai curry, an everyday act was incorporated into the framework of the museum and the conversations and relationships that resulted became the art.
 
■Relevant information
・Introducing Artworks and Sections from "Lee Mingwei and His Relations"
(1)Thinking Relations, Connections and In-between Space
(2)Walking, Eating, and Sleeping - Rethinking Everyday Actione
(3)Thinking Connections of History, Culture, Society through Personal Memories
(4)Contextualize Lee's Body of Works: Hakuin / Imakita Kōsen / D.T. Suzuki
(5)Contextualize Lee's Body of Works: Hisamatsu Shin'ichi / Yves Klein / John Cage
(6)Contextualize Lee's Body of Works: Lee Ufan / Allan Kaprow / Rirkrit Tiravanija
(7)Contextualize Lee's Body of Works: Ozawa Tsuyoshi / Tanaka Koki
・"Lee Mingwei and His Relations: The Art of Participation: Seeing, Conversing, Gift-giving, Writing, Dining and Getting Connected to the World"
Saturday, September 20, 2014 - Sunday, January 4, 2015
・"MAM Project 022: Jacob Kirkegaard"
Saturday, September 20, 2014 - Sunday, January 4, 2015