In this seventh in a blog series on the artists in "Roppongi Crossing 2016" and their works, we focus on the internationally active Jun Yang.

The Age of Guilt and Forgiveness
2016
Single-channel video
Courtesy; ShugoArts, Tokyo; Vitamin Creative Space, Guangzhou; and Galerie Martin Janda, Vienna
Jun Yang grew up in China and Austria and is currently based in Vienna, Taipei and Yokohama.
His The Age of Guilt and Forgiveness (2016), shown at the exhibition, is a love story involving a man and a woman set in Hiroshima and references the film Hiroshima mon amour (1959), directed by Alain Resnais based on a screenplay by Marguerite Duras. What kind of meaning do the past mistakes of individuals or groups have for ourselves in the present and for people in the future? And what is "forgiveness"? Such themes that demand our attention afresh today, seventy years after the end of the second world war, are presented in the work.
The structures inspired by the Jantar Mantar (a giant facility built in India in the 18th century for astronomical observation) hint at the aspirations of humans striving to understand the world around them, as well as the light and shadow of history.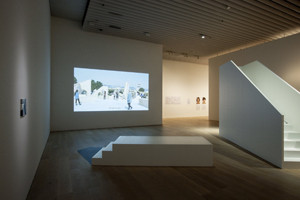 Installation view: "Roppongi Crossing 2016: My Body, Your Voice," Mori Art Museum, 2016
Photo: Nagare Satoshi
 
■Relevant Information
・Mori Art Museum
"Roppongi Crossing 2016: My Body, Your Voice"
Period: from Saturday, March 26 - Sunday, July 10, 2016.
・"Roppongi Crossing 2016": Artists and Works
(1) Mohri Yuko
(2) Katayama Mari
(3) Ishikawa Ryuichi
(4) Goto Yasuka
(5) Shimura Nobuhiro
(6) Kobayashi Erika
(7) Jun Yang
(8) Hasegawa Ai