This final in our eight-part blog series on the "Roppongi Crossing 2016" artists and their works features Hasegawa Ai, whose work explores biotechnology and art.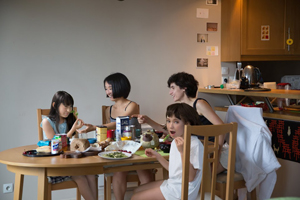 (Im)possible Baby
2015
Digital print
90 × 135 cm
Hasegawa Ai, who is currently a researcher at the MIT Media Lab, explores the possibilities of biotechnology and art.
Based on the premise that in the future, as a result of iPS cell research, "biological children" inheriting the genes of both parents could be born to same-sex couples, (Im)possible Baby (2015-2016) is a project involving the creation of artworks with the cooperation of actual same-sex couples. Visualizations of the likely appearance of the children born based on analyses of each couples' DNA are presented. Interviews with scientists, jurists and LGBT people are also screened on the monitor, while on the walls are written the various opinions.
Through this project, Hasegawa hopes to promote discussion of the issues involved. The progress of science and the ethical issues that arise from it and our increasingly diverse family structures are just some of the questions thrown at us.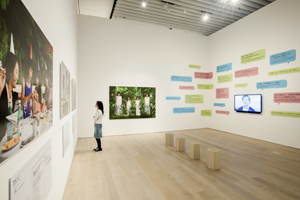 Installation view: "Roppongi Crossing 2016: My Body, Your Voice," Mori Art Museum, 2016
Photo: Nagare Satoshi
 
■Relevant Information
・Mori Art Museum
"Roppongi Crossing 2016: My Body, Your Voice"
Period: from Saturday, March 26 - Sunday, July 10, 2016.
・"Roppongi Crossing 2016": Artists and Works
(1) Mohri Yuko
(2) Katayama Mari
(3) Ishikawa Ryuichi
(4) Goto Yasuka
(5) Shimura Nobuhiro
(6) Kobayashi Erika
(7) Jun Yang
(8) Hasegawa Ai