About the Exhibition
For more than 20 years since his debut in the early 1990s, Aida Makoto has brought a critical perspective to such subjects as Japan, the United States, history, tradition, manga, war, salarymen, pretty young girls, art, and education system, touching upon contradictions in Japanese society, politics and economics during the period of modernization in the Meiji and subsequent periods followed by the rapid economic growth after the Second World War, as well as mass culture and the system surrounding visual art practice that emerged in the wake of these changes. In the course of his practice, Aida has often overturned the accepted wisdom, attitudes and customs that have been collectively and unconsciously shared by Japanese society, and graphically laid bare its taboos, complexities, real intentions and contradictions. For this reason, Aida has trodden a path all of his own, producing artwork that induces in viewers intense feelings of both discomfort and exhilaration.
Compared to other artists of his generation, critical response to Aida's artworks has been consistently favorable. He also continues to garner high levels of respect from the generation of artists below him. And yet he has never held a large-scale solo exhibition at a museum. In this show, we will present the entirety of his creative output. Through his artworks, Aida identifies and then places before us all manner of peculiarities within contemporary Japanese society ? social taboos, emasculated traditions and the coexistence of art and mass culture. To confront such issues through Aida's practice is one of the things needed most as we think about the future of this nation today.
Artist & Works

Photo: Matsukage Hiroyuki
Courtesy: Mizuma Art Gallery
Aida Makoto (artist)
Born on October 4, 1965 in Niigata Prefecture. Completed the Graduate Course at the Graduate School of Fine Arts, Tokyo University of the Arts in 1991. Extensive participation in national and international exhibitions centered on the solo exhibition at the Mizuma Art Gallery. Primary exhibitions include: "Roppongi Crossing: New Visions in Contemporary Japanese Art" (Mori Art Museum, 2004), "The First Singapore Biennale: BELIEF" (Singapore, 2006), "All About Laughter: Humor in Contemporary Art (Mori Art Museum, 2007)," "Bye Bye Kitty!!! - Between Heaven and Hell in Contemporary Japanese Art" (Japan Society, New York, 2011).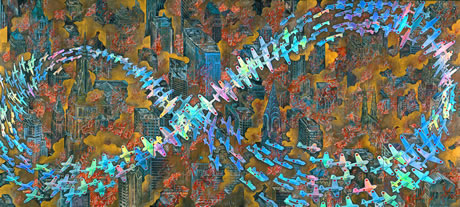 A Picture of an Air Raid on New York City (War Picture Returns)
1996
Six-panel sliding screens, hinges, Nihon Keizai Shinbun, black-and-white photocopy on hologram paper, charcoal pencil, watercolor, acrylic, magic marker, correction liquid, pencil, etc.
169×378cm
TAKAHASHI collection, Tokyo
Courtesy: Mizuma Art Gallery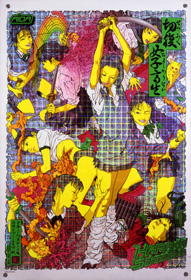 Harakiri School Girls
2002
Print on transparency film, holographic film, acrylic
119x84.7cm
Collection: Mr. Watarai Yasuyuki
Courtesy: Mizuma Art Gallery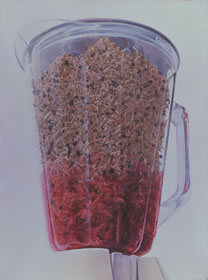 Blender
2001
Canvas, acrylic
290×210.5cm
TAKAHASHI collection, Tokyo
Courtesy: Mizuma Art Gallery
Events
Speaker:
Aida Makoto

Photo: Matsukage Hiroyuki
Courtesy: Mizuma Art Gallery
"Aida Makoto" Exhibition Pre-Event: "The World of Aida Makoto" Roppongi Art College Seminar
*Japanese-English simultaneous interpretation available
As a pre-event in the lead-up to the "Aida Makoto" exhibition, the Roppongi Art College is hosting the Roppongi Art College Seminar: "The World of Aida Makoto," an event in three parts examining the messages contained in the artwork of Aida, who has been described as both a genius and a nonconformist.
Part One will take the form of a conversation between Aida and the curator of the exhibition, Kataoka Mami (Chief Curator, Mori Art Museum). The two will discuss the stories behind the artworks and the exhibition highlights.
In Part Two, REALTOKYO Editor-in-Chief Ozaki Tetsuya will act as coordinator as three guests on whom Aida's work has had an impact will share their own "theories of Aida Makoto," offering insights into Aida's worldview from the perspective of Aida Makoto fans. The three guests are Asabuki Mariko, who won the 144th Akutagawa Prize in 2011 for her novel Kikotowa while still a graduate student; Kokubo Eiichiro, an astronomer who harnesses the power of physics and computers to unravel the mysteries of the universe; and energetic manga artist and columnist Shinsan Nameko.
Part Three will introduce Aida Makoto: Heisei Kanjin Project, a project implemented to coincide with the "Aida Makoto" exhibition in which individuals who endorse and support Aida Makoto's artistic activities will be invited to sponsor the exhibition. Participants will have the opportunity to enjoy a closer and more active relationship with the artist and the museum than that traditionally enjoyed by audiences.
Speaker: Aida Makoto (Artist)
Guest Speakers: Asabuki Mariko (Novelist), Kokubo Eiichiro (Professor, Division of Theoretical Astronomy, National Astronomical Observatory of Japan), Shinsan Nameko (Comic Artist, Columnist)
Coordinator: Ozaki Tetsuya (Publisher and Editor-in-Chief of REALTOKYO and REALKYOTO, Visiting Professor at Kyoto University of Art and Design)
Moderator: Kataoka Mami (Chief Curator, Mori Art Museum)
Date: 15:00-17:30, Sunday, 22 April, 2012
Admission: free (advance bookings required)
Capacity: 500
Venue: Academyhills49 (49F Roppongi Hills Mori Tower)
Organizers: Mori Art Musuem, Academyhills
* All participants to this event will each be given an admission ticket to "Lee Bul: From Me, Belongs to You Only."
Bookings: Booked Out
* Ustream Live streaming of the Event (Japanese/English) is currently planned.
Mori Art Museum Ustream Channel: http://www.ustream.tv/channel/mori-art-museum-english




Guest Speakers:
Asabuki Mariko
Guest Speaker:
Kokubo Eiichiro
Guest Speaker:
Shinsan Nameko
Coordinator:
Ozaki Tetsuya

Photo: Jennifer Yin
Moderator:
Kataoka Mami
The Videos from the "Aida Makoto" Exhibition Pre-Event: "The World of Aida Makoto" (Entire Footage)
Part 1 : "Dialogue" Aida Makoto × Kataoka Mami (38:40 mins)
Part 2 : "Three Perspective on Aida Makoto" (1:28:10 mins)
Part 3 : "Aida Makoto: Heisei Kanjin Project" (11:45 mins)