Mori Art Museum to Join TikTok's "#MuseumMoment" Global LIVE Marathon on May 18
2021.5.17 [Mon]
On May 18, International Museum Day, TikTok is presenting an all-day live global event "#MuseumMoment" by bringing together some of the world's most iconic cultural institutions - and the Mori Art Museum is one of the participating institutions.
TikTok's newly-launched #MuseumMoment initiative will feature an exclusive virtual tour LIVE conducted by 23 museums across 12 different countries around the world. Mori Art Museum will go LIVE at 19:00-20:00 on May 18 [JST]. Mori Art Museum Director Kataoka Mami will be giving the virtual tour (in English) of the Another Energy exhibition, currently on view.
#MuseumMoment will be livestreamed on TikTok accounts below.
Livestreaming will be in English-language only.
Mori Art Museum TikTok account
https://www.tiktok.com/@moriartmuseum
TikTok for Good * #MuseumMoment will be livestreamed all day.
https://www.tiktok.com/@tiktokforgood
Schedule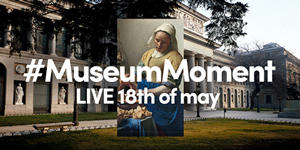 Details: here